Chinese copper consumption has continued to slow despite (unrealistic in the short term) expectations that the government stimulus package was going to turn things around. Although output in the first three quarters was up over19% from last year, production and demand have dropped in the fourth quarter due to falling auto and construction consumption. In reality the decline in consumption started in May as the following graph shows: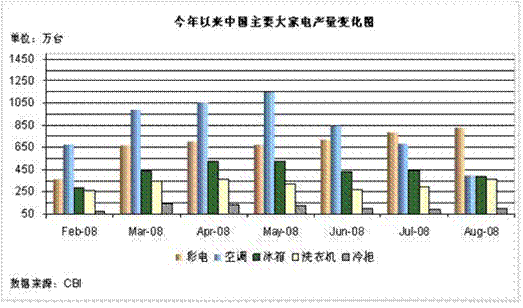 For those who need to brush up on their Chinese characters the key reads: color TV, air conditioners, refrigerators, washing machines and freezers.
Domestic consumption has been hit by the fall in the stock market and the collapse of the Chinese housing market. Demand for all domestic products has fallen dramatically while at the same time production of automobiles has slowed as inventories have grown also hitting demand for copper, aluminum and steel. But it wasn't until export demand dropped in the third and fourth quarters that metals consumption really took a hit.
It could be six months before the government's fiscal package has any impact and possibly a year for the export markets to pick up. Chinese copper production and consumption are likely to remain in the doldrums until the second quarter of next year.
–Stuart Burns