Copper MMI: Lower LME Copper Prices Drive Subindex Drop
In November, the Copper Monthly Metals Index (MMI) fell three points. The index fell back to September levels, driven by lower LME copper prices. The current Copper MMI stands at 74 points.
Need buying strategies for steel? Request your two-month free trial of MetalMiner's Outlook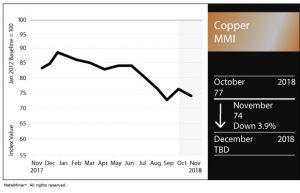 LME copper prices traded lower in October. LME copper prices held above the $6,000/mt level at the beginning of the month, but then fell at the end of the month. LME copper prices ended up below the $6,000/mt ceiling.



However, LME copper prices seem to have recovered some momentum and increased sharply at the beginning of November. So far, LME copper prices have increased by 3.2%. LME copper prices breached the $6,000/mt level and buying trading volume remains strong.
Readers may want to remember the $6,000/mt level served as a price ceiling for copper in 2017. Prices climbed toward that ceiling several times during 2017, but failed to breach it.
Copper prices breached the $6,000/mt ceiling back in August 2017; copper has remained in a long-term uptrend since then.
Global Copper Outlook
The copper supply-and-demand balance has run a deficit since the beginning of the year. In fact, the deficit has widened each month.
According to the International Copper Study Group (ICSG), July data showed a 47,000-ton deficit. Global stocks have also dropped, specifically in the Chinese copper market.
Chile currently produces around 25% of annual global copper output, or 23 million tons. Miners in Chile continue to explore new copper markets. Chile's has set its sights on electric vehicles, where copper consumption is higher than regular vehicles. Electric vehicles contain 50 kilograms of copper versus 23 kilograms in the standard combustion engine equivalent.
Chilean miners have also made an effort to secure long-term copper supply contracts. Codelco, one of the largest copper mines (with around 7% of total global supplies), already locked 60,000 tons of copper per year with China's Minmetals from 2019-2021.
A deteriorating copper ore grade and a healthy demand seems to drive companies to lock in long-term supplies to avoid shortages.
Codelco will invest in the Chuquicamata mine, converting it into an underground facility. The mine will start operations in July 2019 with around 275,000 tons of copper. The expectations are that the mine will process 350,000 tons of copper by 2025.
Chinese Scrap Copper
LME copper prices and Chinese copper scrap prices tend to follow the same trend. Both decreased this month.
However, the pace of the decrease seems slightly different.
Chinese scrap prices appear to be in a soft short-term downtrend, while LME copper prices showed recovering momentum last month.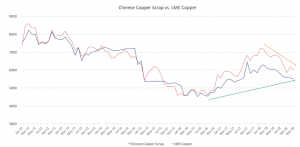 The spread has become wider again. The wider the spread, the higher the copper scrap consumption and, therefore, the price.
What This Means for Industrial Buyers
LME copper prices slowed down this month. Buying organizations will want to understand how to react to the latest copper price movements.
Adapting the right buying strategy becomes crucial to reducing risks. Only the MetalMiner monthly outlooks provide a continually updated snapshot of the market from which buying organizations can determine when and how much to buy of the underlying metal.
For more information on how to mitigate price risk year-round, request a free trial to our Monthly Metal Buying Outlook.
MetalMiner's Annual Outlook provides 2019 buying strategies for carbon steel
Actual Copper Prices and Trends
In October, most of the prices comprising the Copper MMI basket fell.
LME copper decreased by 2.7% this month. Indian copper prices fell by 4.71%, while Chinese primary copper prices decreased 4.8%.
Prices of U.S. copper producer grades 110 and 122 fell by 3.38%. Meanwhile, the price of U.S. copper producer grade 102 decreased by 3.20%, down to $3.62/pound.