PSA Groupe, Fiat Chrysler to Merge as European Auto Sector Faces Challenges Ahead
The board of France's PSA, owner of Peugeot, has given chief executive Carlos Tavares approval to launch a full-scale merger with Fiat Chrysler Automobiles, creating one of the world's largest carmakers, the Financial Times reports.
Keep up to date on everything going on in the world of trade and tariffs via MetalMiner's Trade Resource Center.
The FCA board is expected to follow suit, paving the way for the companies to pursue a deal that would create a combined group with a market value in excess of €44 billion (U.S. $48 billion).
Shares in FCA have risen some 7% since the merger was back on the table last week in anticipation of a successful outcome, Peugeot shares have barely moved. Both movements — or lack thereof — are in sharp contrast to the preceding year, during which Peugeot's shares have risen 38% and FCA's just 1%.
Peugeot's Tavares has earned widespread praise for his turnaround of car maker Opel — formerly owned by General Motors — since 2017.
FCA shareholders are maybe hoping he can do the same for them.

CEO aside, the merger is largely one of equals.
Both firms are valued in the region of between €22 billion and €23 billion (U.S. $25 billion).
The Financial Times quotes sources saying "there is clearly the potential for significant gross synergies [in the] €7bn range over 2021-2023." Meanwhile, a separate source suggests analysts at UBS have "estimated that a merger could yield annual synergies of €3bn to €6.6bn, equivalent to about 25 to 55% of combined estimated 2020 earnings."
FCA abandoned attempts to merge with Peugeot's French rival, Renault, earlier this year when the French government, a 15% shareholder, blocked the move.
But the FCA has long held that consolidation within the European car industry, if not globally, is inevitable as the industry goes through unprecedented disruption in terms of a switch to electric and competition from Asia.
There is arguably a better logic to a Peugeot-FCA merger than a Renault-FCA tie-up.
"FCA needs scale in Europe and PSA has no presence in the US, where FCA has market-share for sale," Philippe Houchois, an autos analyst at Jefferies, is quoted as saying by the Financial Times. "PSA also has the technology to help with FCA's carbon emission issues."
Technological disruption and Asian competition is impacting not just carmakers but the whole supply chain, an article in the Financial Times highlights.
The paper quotes Laurent Bourrut, executive vice president of road transport and Europe at Michelin, who said, "The tipping point for the European market was really 2012 or 2013 and from that stage we have seen a surge in imports coming from China, but not only from China as competitors in Asia have built up massive overcapacity."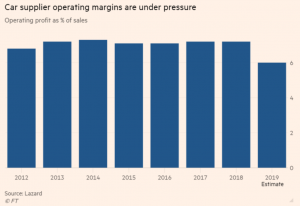 Both French Michelin and German Continental are restructuring to meet the drop in volume and changing patterns of demand.
Continental, alongside other auto suppliers such as Bosch, ZF, and Schaeffler, face "unprecedented disruption," the Financial Times says. That disruption comes in the form of customers abandoning the combustion engine, "rendering portions of intellectual property and physical capital incrementally obsolete," according to Morgan Stanley analysts, after Continental announced €2.5 billion of impairments on acquisitions.
"Carmakers, and in particular suppliers, have been adding capacity because they have been preparing for a market that produces 100m units a year, we are now running at 90m," Raghav Gupta-Chaudhary, an analyst at Citi, is quoted as saying by the Financial Times. "Something needs to be done, and big decisions need to be taken."
Looking for metal price forecasting and data analysis in one easy-to-use platform? Inquire about MetalMiner Insights today!
The process is only just beginning — there have been no failures among mainstream carmakers or Tier 1 suppliers so far.
But the cracks are beginning to show.
The 2020s are going to be a testing time for automakers in Europe.