This Morning in Metals: Federal Reserve Cuts Interest Rates Again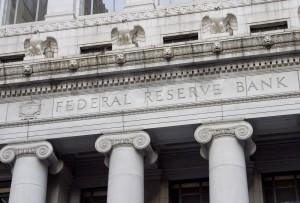 This morning in metals news, the Federal Reserve has cut interest rates for the third time this year, AK Steel released its third-quarter financials and 16 steel industry associations praised the work of the Global Forum on Steel Excess Capacity.
Keep up to date on everything going on in the world of trade and tariffs via MetalMiner's Trade Resource Center.
Fed Cuts Rates Again
For the third time this year, the Federal Reserve announced a downward adjustment to its federal funds rate.
The Fed lowered its federal fund target rate range by one-quarter of a percentage point, down to 1.50-1.75%.
"Information received since the Federal Open Market Committee met in September indicates that the labor market remains strong and that economic activity has been rising at a moderate rate," the Fed said in a release. "Job gains have been solid, on average, in recent months, and the unemployment rate has remained low. Although household spending has been rising at a strong pace, business fixed investment and exports remain weak. On a 12-month basis, overall inflation and inflation for items other than food and energy are running below 2 percent. Market-based measures of inflation compensation remain low; survey-based measures of longer-term inflation expectations are little changed."
In a pair of tweets, President Donald Trump again criticized the Fed and its chairman, Jerome Powell.
"People are VERY disappointed in Jay Powell and the Federal Reserve," Trump wrote. "The Fed has called it wrong from the beginning, too fast, too slow. They even tightened in the beginning. Others are running circles around them and laughing all the way to the bank. Dollar & Rates are hurting our manufacturers. We should have lower interest rates than Germany, Japan and all others. We are now, by far, the biggest and strongest Country, but the Fed puts us at a competitive disadvantage. China is not our problem, the Federal Reserve is! We will win anyway."
AK Steel Releases 3Q Results
Ohio-based AK Steel announced adjusted EBITDA of $86.9 million in the third quarter, down from $160.8 million in 3Q 2018.
Net sales of $1.5 billion in the third quarter marked a 12% year-over-year decrease.
"Our third quarter results were essentially in line with our expectations despite a challenging environment," CEO Roger K. Newport said. "We continued to make solid progress in our strategy to focus on higher-value business during the quarter. As we look to 2020, we are excited about our prospects, particularly in automotive where we expect meaningful market share growth."
Steel Associations Applaud GFSEC Members' Work on Excess Capacity
A group of 16 steel industry associations around the world released a statement praising the work of members involved in the Global Forum on Steel Excess Capacity and asking for that work to continue.
In addition, the associations "called upon the few dissenting members to reconsider their current position as quickly as possible."
"According to the latest OECD information, there are 440 million metric tons of steel excess capacity in the world today. This is an increase of 6.5 percent over last year," the groups said in a joint statement. "Governments of steelmaking economies worldwide must redouble their efforts to address this persistent global excess capacity in the steel sector, eliminating the support measures that cause it, and implementing strong rules and remedies that reduce excess capacity. We call on governments to continue the work on the issue of steel excess capacity without delay."
China has been critical of the forum, arguing that it has done enough to work toward addressing the issue of steel excess capacity, the South China Morning Post reported.
The U.S. has also been critical of the forum, claiming it has not been effective.
"The decision by a vast majority of Global Forum members to continue the work of the Forum beyond 2019 is a recognition that severe excess capacity is a continuing crisis," the Office of the United States Trade Representative said Saturday. "The Global Forum's policy prescriptions and information-sharing process will not alone resolve the crisis of excess capacity in the global steel sector. This will only happen when those that have created the problem take concrete steps toward true market-based reform. Participation in the Global Forum process is a signal of each member government's commitment to adhere to principles intended to ensure market-based outcomes."
In 2017, the USTR said the forum "has not made meaningful progress yet on the root causes of steel excess capacity."
Looking for metal price forecasting and data analysis in one easy-to-use platform? Inquire about MetalMiner Insights today!
The groups issuing the call for continued action were: Steel Manufacturers Association (SMA), American Iron and Steel Institute (AISI), EUROFER (the European Steel Association), Canadian Steel Producers Association (CSPA), CANACERO (the Mexican Steel Association), Alacero (the Latin American Steel Association), Brazil Steel Institute, The Japan Iron and Steel Federation (JISF), European Steel Tube Association (ESTA), Specialty Steel Industry of North America (SSINA), South African Iron and Steel Institute (SAISI), The Cold Finished Steel Bar Institute (CFSBI), Indian Steel Association, Association of Enterprises UKRMETALURGPROM (Ukraine), Russian Steel Association, and The Committee on Pipe and Tube Imports (CPTI).