This Morning in Metals: USTR Begins Process to Raise Tariffs on Remaining Imports from China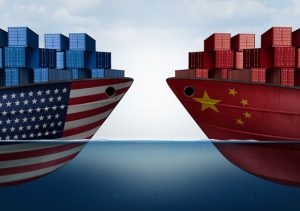 This morning in metals news, President Donald Trump has instructed the United States Trade Representative to begin the process of raising tariffs on the remaining approximately $300 billion in Chinese imports, Germany's Thyssenkrupp is looking for new partners after the planned merger of its European operations with Tata Steel fell apart and China announced retaliatory tariffs against the U.S.
Need buying strategies for steel? Request your two-month free trial of MetalMiner's Outlook
USTR to Begin Process to Raise Tariffs on All Imports from China
In a move that delivered a shock to the ongoing trade talks between the U.S. and China, President Donald Trump opted to more than double the tariffs on a previously announced set of $200 billion in Chinese goods.
As talks continued last week, Trump set a Friday, May 10 deadline for a deal, threatening to raise the tariff rate on those goods from 10% to 25%. The deadline came and went without an agreement; as such, the tariff rate increased as of 12:01 a.m. ET Friday, May 10.
However, the escalation might not be stopping there.
Trump previously said he was considering imposing tariffs on essentially all remaining imports from China, which the Office of the United States Trade Representative (USTR) confirmed in a statement.
"Earlier today, at the direction of the President, the United States increased the level of tariffs from 10 percent to 25 percent on approximately $200 billion worth of Chinese imports," the USTR said. "The President also ordered us to begin the process of raising tariffs on essentially all remaining imports from China, which are valued at approximately $300 billion."
Thyssenkrupp Moves Forward After Tata Merger Collapse
German steelmaker Thyssenkrupp is looking for new partners after its planned 50-50 joint venture with Tata Steel collapsed under scrutiny from European competition authorities, who were concerned the European JV would yield higher prices and fewer choices for consumers.
Thyssenkrupp CEO Guido Kerkhoff told the Handelsblatt business daily's online edition that the firm is assessing consolidation options, but that he doesn't foresee the possibility of "bigger mergers" due to the "current position of the European Commission," Reuters reported.
China Strikes Back
On the heels of the U.S.'s tariff rate increase, China vowed last week to take "necessary countermeasures" in response.
Last year, China imposed a total of $110 billion in tariffs on imports from the U.S. in response to the U.S.'s tariffs.
For more efficient carbon steel buying strategies, take a free trial of MetalMiner's Monthly Outlook!
This time, China announced the imposition of an additional $60 billion in tariffs on U.S. goods, the BBC reported, including beef, tea, coffee and vegetables, among other items.