Rare Earths MMI: Metals Prices Move Up, Demand for Neodymium Grows
The Rare Earths Monthly Metals Index (MMI) picked up a point this month, rising from 20 for an April reading of 21.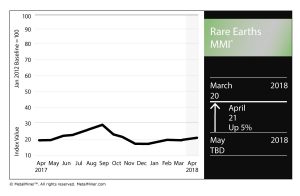 The basket of metals posted price gains across the board this past month.
Need buying strategies for steel? Try two free months of MetalMiner's Outlook
Yttrium rose 1.2%, while terbium oxide rose 1.6%. Neodymium oxide rose 0.2%, europium oxide was up 1.3% and dysprosium oxide was up 0.8%.
Growing Demand for Neodymium
A move by Tesla to a magnetic motor for its Model 3 Long Range car, Reuters reported last month, will add pressure on an already constrained neodymium market.
According to the research group imarc, the market for the neodymium-iron-boron magnet used for the magnetic motors is now worth more than $11.3 billion, Reuters reported.
Global demand for neodymium exceeded supply by 3,300 tons, according to the report.
With the demand for electric vehicles growing more and more, so too will the demand for rare-earth metals like neodymium. Complicating the supply landscape, however, is China's total dominance in the rare earths market. Given rising trade tensions, stemming from the Trump administration's recent Section 232 steel and aluminum tariffs, plus the recent Section 301 announcement — the Office of the United States Trade Representative yesterday posted a proposed list of Chinese products that could be subject to tariffs — the neodymium supply market is something to be monitored.
As Reuters notes, China previously instituted a neodymium export ban, which was lifted in 2015 — could it happen again? That remains to be seen, but increasingly inflamed global trade relations certainly don't do anything to tamp down the possibility.
Speaking of Trade Tensions…
Bloomberg speculated last month on ways China could retaliate against the U.S. should the latter eventually impose tariffs on Chinese goods amounting to potentially $50-$60 billion.
The article notes that in 2010, China stopped giving Japan export licenses for rare earth metals used in cars and electronics, as a result of tensions related to islands in the East China Sea.
Again, it remains to be seen what the rising tensions mean for the rare-earths market, but it is certainly worth monitoring going forward.
Searching from Above
In the search for new deposits of rare earths (and metals, in general), scientists are looking from a bird's eye view — or, rather, a drone's eye view.
According to a report in The Guardian, German scientists are using drones to scout out potential new sources of metals. The scientists are using drones, equipped with special cameras and sensors, to identify potential deposits based on the unique reflections of light various minerals produce, according to the report.
As noted above, the demand for rare earth materials is only going to increase, not just for application in electric vehicles, but also in other high-tech products.
MetalMiner's Annual Outlook provides 2018 buying strategies for carbon steel
Actual Metal Prices and Trends
Yttrium rose 1.2% to $35.83/kg, while terbium oxide rose 1.6% to $3,503.55/kg. Neodymium oxide rose 0.2% to $55,738.30/mt, europium oxide was up 1.3% to $62.11/kg and dysprosium oxide was up 0.8% to $190.31/kg.