Automotive MMI: U.S. Auto Sales Drop in April
The Automotive Monthly Metals Index (MMI) tracked back slightly this past month, losing one point to fall to a reading of 102 for our May MMI, as U.S. auto sales dropped in April.
Need buying strategies for steel? Try two free months of MetalMiner's Outlook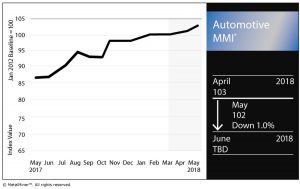 Within the basket of metals, U.S. HDG got a slight boost, as domestic steel continues to ride a wave of, at the very least, short-term support from the Trump administration's Section 232 measures.
Elsewhere, LME copper bounced back 1.5% month over month, while U.S. shredded scrap steel jumped 3.0%. Meanwhile, Korean aluminum coil dropped 3.7%.
Also, palladium continues to trade at a premium to platinum, which, as we've now been saying for many months, isn't typical. Our September MMI marked the last reading in which platinum traded at a premium to palladium.
U.S. Auto Sales
The first quarter was a good one for automakers in the U.S. market. As we reported last month, General Motors saw its March sales jump 15.7% year over year, while Ford was up 3.5% and Fiat Chrysler up 13.6% (just to name a few).
Sales in April, however, slowed down.
April saw 17.15 million units sold, down from 17.04 million units in April 2017, according to Reuters. Meanwhile, Ford saw its April sales drop 4.7% compared to April 2017.
As for top seller General Motors, the automaker recently announced it would no longer announce sales data on a monthly basis, instead reporting on a quarterly schedule. According to the Reuters report, estimates show GM's April sales coming in anywhere between flat to a 0.8% drop.
A Strategy Shift for Ford
The U.S. auto market's No. 2 seller, Ford, made a big announcement regarding its North American lineup.
For some time now, appetite has been high for trucks in the U.S., as sales data have showed. With that in mind, during the company's recent Q1 earnings release, it announced that it would phase out a number of of its traditional sedans in what marks a narrowing of its offerings in the market.
"For example, by 2020, almost 90 percent of the Ford portfolio in North America will be trucks, utilities and commercial vehicles," Ford's Q1 earnings release states. "Given declining consumer demand and product profitability, the company will not invest in next generations of traditional Ford sedans for North America. Over the next few years, the Ford car portfolio in North America will transition to two vehicles – the best-selling Mustang and the all-new Focus Active crossover coming out next year. The company is also exploring new 'white space' vehicle silhouettes that combine the best attributes of cars and utilities, such as higher ride height, space and versatility."
Mark LaNeve, Ford's vice president for U.S. marketing, sales and service, noted 75% of Ford's commercial sales are in trucks and vans.
Chinese Auto Sales
The Wall Street Journal last month reported Chinese auto sales posted a 4.7% year-over-year rise in March.
Meanwhile, Ford saw its Chinese sales drop significantly in March. Reuters reported Ford's March sales in the country were down 11% year over year.
As for Japanese automaker Nissan, which posted a 28% year-over-year drop in U.S. sales last month, Bloomberg Gadfly speculated whether that could be part of a deliberate pullback from the U.S. market in favor of another market: China.
NAFTA Auto Developments
U.S. Trade Representative Robert Lighthizer said this week that he hopes to reach a deal on restructuring the North American Free Trade Agreement (NAFTA), the trilateral trade deal in place since 1994, sometime this month. Negotiators from the U.S., Mexico and Canada have engaged in talks on NAFTA since last fall, so pessimism regarding a tidy resolution this month is probably warranted.
Nonetheless, a point of contention in the NAFTA dialogue has been the issue of automotive rules of origin; that is, the percentage of automotive parts for a vehicle that must originate in North America.
Reuters reported earlier this week that a recent U.S. proposal called for a 75% mark for automotive parts, which would be up from the current 62.5% but down from a previous U.S. proposal of 85%. As part of the debate, Lighthizer has also applied pressure on Mexico to raise automotive workers' wages in the country.
Want to a see Cold Rolled price forecast? Get two monthly reports for free!
According to the report, however, a deal on automotive content is still far off. Reuters quoted Eduardo Solis, president of the Mexican Auto Industry Association, who said the latest U.S. proposal was "not acceptable."