Copper Rallies, Zinc Price Increases
So far in June, base metal prices have increased. Copper, zinc and tin increased sharply. Meanwhile, aluminum and nickel also increased, but a little less dramatically.
Need buying strategies for steel? Try two free months of MetalMiner's Outlook
Copper Rally
Copper prices breached the $7,300/mt level. Prices trading over this resistance level signals strength for the metal.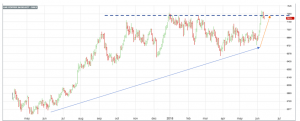 Copper has also outperformed in China, which may support copper prices longer.
Chinese copper imports have surged since the beginning of the year. According to Chinese customs data released at the beginning of this month, copper imports increased to 475,000 tons. The 22% increase compared to April imports marks the highest total in more than 17 months.
A strong copper appetite for the biggest world consumer, China, adds support to the current copper uptrend.
Zinc Price Rise
Zinc prices also increased this month. Zinc prices started a short-term downtrend in February. However, prices started to increase again this month.
Trading volumes seem strong, which could signal additional price strength.



Zinc prices remain in a long-term rally, which started at the beginning of 2016. During this rally, zinc prices have reached more than 10-year highs.
Want to see an Aluminum Price forecast? Take a free trial!
What This Means for Industrial Buyers
Buying organizations should remember that industrial metals remain in a bullish market. Commodities increased, while the U.S. dollar showed weakness again. Therefore, base metals could continue to increase in the medium term.
Buying organizations reading the Metal Monthly Outlook had the opportunity to identify some buying signals at the beginning of April to reduce price risk by purchasing some volume.
For those who want to understand how to reduce risks, take a free trial now to the MetalMiner Monthly Outlook.