Global Crude Steel Production in May Up 6.6% Year Over Year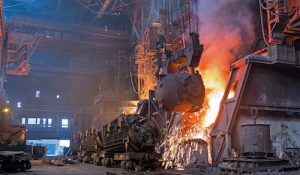 Global crude steel production in May rose 6.6% compared with production in May 2017, according to a World Steel Association report released Monday.
Need buying strategies for steel? Try two free months of MetalMiner's Outlook
Global production for the month hit 154.9 million tons (MT), according to the report.
Several Asian nations saw significant upticks in production last month.
Chinese production hit 81.1 MT, up 8.9% from May 2017. India produced 8.8 MT, up 7.6% year over year, while Japan's 9.1 MT marked a 1.8% increase. South Korea produced 6.2 MT, up 3.0%.
Meanwhile, in Europe, Italy produced 2.2 MT of crude steel, up 3.7% year over year. Spain produced 1.3 MT of crude steel, up by 7.0%. France also produced 1.3 MT of crude steel, which marked a decrease of 6.5%.
Elsewhere, Turkey's crude steel production was 3.3 Mt, up by 0.5%. Ukraine hit 1.7 MT, up 2.9%.
The U.S. produced 7.1 MT of crude steel, marking an increase of 3.0%.
Brazil's crude steel production, however, took a dive last month. Production hit 2.7 MT, down by 8.6% year over year.
MetalMiner's Annual Outlook provides 2018 buying strategies for carbon steel
The crude steel capacity utilization ratio of the 64 countries in May 2018 was 77.7%, which is 4.2 percentage points higher than May 2017 and 1.0 percentage point higher than in April 2018.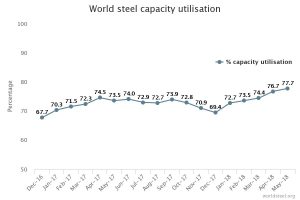 The ratio has climbed each month since February, when it stood at 69.4%.