Copper MMI: LME Copper Prices Continue Downtrend
In July, the Copper Monthly Metals Index (MMI) fell by three points, falling to its lowest value since October 2017. The Copper MMI currently stands at 81 points. The decrease came as a result of falling LME copper prices as well as other elements that make up the Copper MMI.
Need buying strategies for steel? Try two free months of MetalMiner's Outlook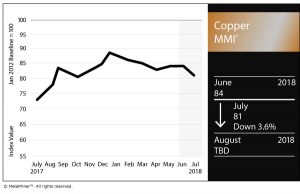 So far, LME copper prices have followed last month's downtrend.
LME copper prices have remained in a short-term downtrend since prices peaked in June at $7,316/mt. Since then, LME copper prices have fallen by more than 12%.
The downtrend appears sharp, as copper prices have fallen to October 2017 levels. However, trading volumes do not appear in the same sharp downtrend, instead looking flat. Therefore, copper prices may just be seeing a bigger buying dip, caused by weaker summer demand and trade tensions.
Trade Tensions Also Affecting Copper
Copper prices have also struggled this month due to trade tensions between China and the U.S.
China accounts for almost half of global copper consumption, estimated at around 24 million tons. Fewer Chinese exports also affect copper prices.
Copper investors seek to reduce risk until the trade tension abates. This, together with weaker demand in China, have supported the downtrend.
Chinese Scrap Copper
Since the announcement of the ban on copper scrap in China last summer, MetalMiner has followed Chinese copper scrap prices closely.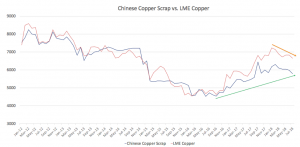 LME copper prices and Chinese copper scrap prices tend to follow the same trend. Both appear to be in a long-term uptrend. However, both LME copper and scrap copper prices fell again this month. Despite both following the same short-term downtrend, the spread has widened. The wider the spread, the higher the copper scrap consumption, and therefore, the price.
However, Chinese the copper scrap ban has boosted copper production in other forms.
In May, Chinese copper imports reached their highest levels in 17 months, with imports totaling 475,000 tons of unwrought copper and copper products. Strong manufacturing and construction sectors have led Chinese demand.
What This Means for Industrial Buyers
Despite the recent dip, LME copper prices remain in a long-term uptrend.
Buying organizations reading the Metal Monthly Outlook had the opportunity to identify a buying signal at the beginning of April and reduce price risk by purchasing some volume. For those who want to understand how to reduce risks, take a free trial now to the MetalMiner Monthly Outlook.
MetalMiner's Annual Outlook provides 2018 buying strategies for carbon steel
Actual Copper Prices and Trends
In July, most of the prices comprising the Copper MMI basket decreased.
LME copper fell by 2.77% this month. Indian copper prices decreased by 2.81%, while Chinese primary copper prices fell further by 3.40%.
Prices of U.S. copper producer grades 110 and 122 decreased by 2.62%. Meanwhile, the price of U.S. copper producer grade 102 fell by 2.49%, to $3.91/pound.