Renewables MMI: DRC to Raise Royalty Rate on Cobalt
The Renewables Monthly Metals Index (MMI) picked up a point this month, rising for an MMI reading of 102.
Need buying strategies for steel? Request your two-month free trial of MetalMiner's Outlook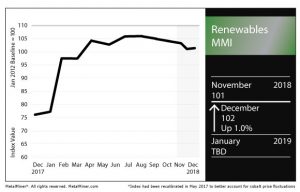 DRC Declares Cobalt 'Strategic' Substance
The Democratic Republic of the Congo (DRC) — where a majority of the world's cobalt is mined — declared cobalt to be a "strategic" substance, according to a Reuters report citing a government decree.
So, what does that mean, exactly?
Operating in the country is going to be pricier for miners like Glencore. The royalty rate for the coveted material will rise to 10%, nearly triple its previous rate, according to the report.
The decree was signed by Prime Minister Bruno Tshibala Nov. 24 and made public this week.
Cobalt is coveted for its application in batteries used in electric vehicles. However, the price of cobalt on the LME has plummeted this year, from $95,000/ton in late March to $54,750/ton this week.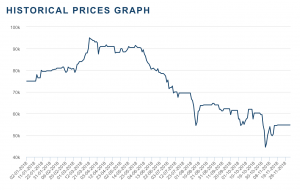 The DRC ushered in a new mining code earlier this year, which saw an increase in royalty rates for a number of metals, including cobalt.
Glencore, a major mining player in the country, in October reported cobalt production of 28,500 tons, up 44% year over year, through the first three quarters. Its full-year guidance called for approximately 39,000 tons of production (plus-minus 2,000 tons), which would mark an increase from last year's 27,400 tons.
Speaking of cobalt and tension with the DRC government, Bloomberg reported the government had begun an audit of cobalt produced by a Glencore unit in the country was found to have traces of uranium.
Tokyo Steel Announces Plate Price Hike
As we noted last month, Tokyo Steel announced plans to hike steel plate prices in the final month of the year.
"Plate prices have always had their own price dynamics separate from the other forms of flat rolled steel (such as HRC and CRC). Plate prices in the U.S. have remained fairly well-supported compared to the other forms of steel, so it should come as no surprise that in markets with strong construction demand, like Japan, mills would announce price increases," we noted in a post last month.
"Interestingly, Chinese plate prices have started to slip, but those dynamics could change based on environmental curbs, whether the Japanese plate price increases stick and Chinese demand. U.S. metal-buying organizations will want to pay close attention to these price dynamics in Japan and China."
MetalMiner's Annual Outlook provides 2019 buying strategies for carbon steel
Actual Metal Prices and Trends
Japanese steel prices fell on the month, down to $757.12/mt. Korean steel plate fell 2.5% to $640.18, while Chinese steel plate dropped 7.5% to $637.71/mt.
U.S. steel plate rose 2.1% to $1,022/mt.
Chinese neodymium jumped 2.6% to $58,469.10/mt, while silicon rose 1.3% to $1,496.23/mt. Cobalt cathodes rose 1.3% to $96,601.10/mt.