Precious Metals MMI: Norilsk, JPMorgan Chase Bullish on Hybrid Car Demand's Role in Palladium Prices
It looks as though the winter is just heating up for the Global Precious Monthly Metals Index (MMI).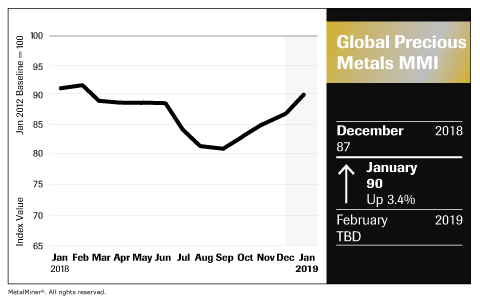 The sub-index tracking a basket of gold, silver, platinum and palladium prices from four different geographies rose three points to hit 90 for the January reading — a 3.4% increase — driven by a still-hot palladium price.
Need buying strategies for steel? Request your two-month free trial of MetalMiner's Outlook
The U.S. palladium bar price broke the 1,200-per-ounce barrier to start the month, ending at $1,252 per ounce to begin 2019. That represents a three-month uptrend. Meanwhile, the gold price reclaimed its premium over palladium, settling at $1,282 per ounce to begin the month.
U.S. silver also rose, while platinum dropped in the U.S. and Japan.
Palladium Outlook Looking Even Better With Hybrid Vehicle Demand
As we wrote last month, while supply from major producers including Russia and South Africa is not growing, global automotive palladium demand is expected to achieve a new record high in 2018 of around 8.5 million ounces, according to precious metals consultancy Metals Focus as reported by Reuters.
That conspires for the high price bubble of the formerly junior PGM of late. However, that may not last.
"This increases the potential for correction," Commerzbank is quoted as stating in a recent outlook report. "We expect a price correction [for palladium] to begin in the course of the first quarter of 2019."
After correcting, the bank expects the price should to "resume its upswing," forecasting a price of $1,100 per troy ounce by the end of 2019, it is quoted as saying.
Other analysts agree with that general take, but that doesn't mean that the longer-term demand outlook isn't still strong.
According to Anton Berlin, head of analysis and market development at Norilsk Nickel PJSC, as quoted by Bloomberg, "combined palladium use in hybrid and plug-in hybrid — or rechargeable — vehicles next year will be nearly triple that of 2016."
Benchmark your current cold rolled coil sheet prices and see how it compares to the market
Analysts at JPMorgan Chase & Co. agree. "Hybrids are forecast to grow from just 3 percent of global market share in 2016 to 23 percent of sales by 2025," stated a late-2018 report by the bank, according to Bloomberg.