This Morning in Metals: 2019 Could be a Record Year for Antofagasta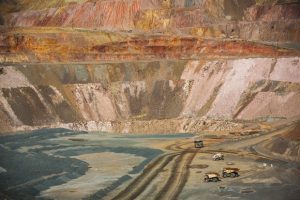 This morning in metals news, Chilean miner Antofagasta expects a bumper 2019, the reason why Elon Musk is using stainless steel to build a new SpaceX rocket and China is finding ways to avoid duties to get its stainless steel into India.
Need buying strategies for steel? Request your two-month free trial of MetalMiner's Outlook
Antofagasta Predicts Record 2019
Chilean miner Antofagasta reported Q4 2018 copper production of 220,000 tons, up 16.8% from the previous quarter.
Meanwhile, gold production hit 90,000 ounces in Q4, up a whopping 87.1% from the previous quarter.
Full-year copper and gold production both hit the upper end of the firm's guidance for the year.
The miner expects 2019 to be a big year, too.
"Group production in 2019 is expected to be a record year with 750-790,000 tonnes of copper (as previously announced), 240-260,000 ounces of gold and 11,500-12,500 tonnes of molybdenum," a company release stated.
Stainless Steel Rocket
In an interview with Popular Mechanics, SpaceX CEO Elon Musk revealed why the company will be making a rocket using stainless steel.
"The thing that's counterintuitive about the stainless steel is, it's obviously cheap, it's obviously fast—but it's not obviously the lightest," Musk told Popular Mechanics. "But it is actually the lightest. If you look at the properties of a high-quality stainless steel, the thing that isn't obvious is that at cryogenic temperatures, the strength is boosted by 50 percent."
China Still Dumping Stainless Steel in India
Despite duties against it, China is still managing to dump stainless steel into India, according to the Hellenic Shipping News.
For more efficient carbon steel buying strategies, take a free trial of MetalMiner's Monthly Outlook!
Instead, Chinese firms are bypassing the duties by way of Indonesia, according to the report, which also states India's capacity utilization rate for stainless steel is at 70% (well below the 80% mark considered an indicator of industry health).