The April MMO Report: Rising Steel Prices, Raw Material Supply Disruptions and More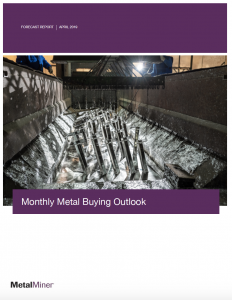 MetalMiner's April 2019 Monthly Metal Buying Outlook is in the books.
Need buying strategies for steel? Request your two-month free trial of MetalMiner's Outlook
The Monthly Metal Buying Outlook, released at the beginning of every month, offers analysis and buying strategies for 10 metals:
Aluminum
Copper
Nickel
Lead
Zinc
Tin
Hot-Rolled Coil  (HRC)
Cold-Rolled Coil (CRC)
Hot-Dipped Galvanized (HDG)
Steel Plate
The monthly report supplies buyers with valuable data and analysis to mitigate price risk and buy at the most opportune times in the price cycle. In addition to buying strategies, the outlook includes analysis of the last month in news and trends for each metal category, drivers affecting price movements, and resistance and support levels (and much more).
MetalMiner's Annual Outlook provides 2019 buying strategies for carbon steel
Request your free trial to the Monthly Metal Buying Outlook here.