Long-term negative correlation between the dollar, gold prices takes a break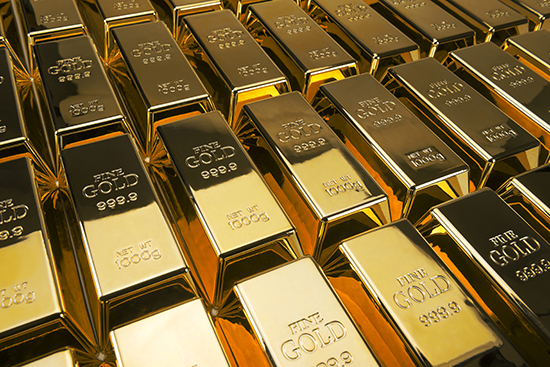 Gold prices surged this year due to greater uncertainty in the global macroeconomic environment.
By August, the price briefly regained the $1,500/ounce price point and stood at $1,460/ounce in late November.
Keep up to date on everything going on in the world of trade and tariffs via MetalMiner's Trade Resource Center.
Over the longer term, gold prices and the dollar tend to move in an inverse relationship, as demonstrated by this chart, which shows prices from July 2012 through early November 2019: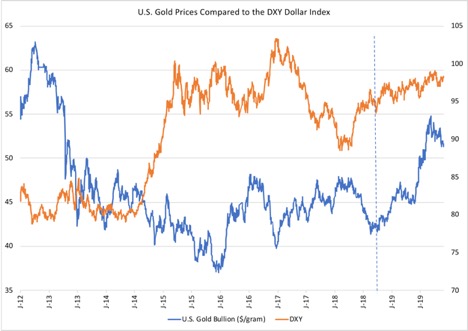 However, the relationship does not always hold true.
More recently, we've once again seen a break in the relationship, which started late last year (the vertical blue dotted line above) and picked up steam around June.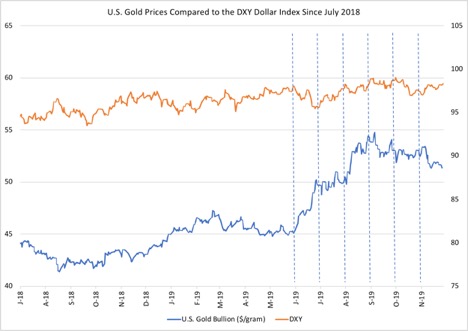 Both gold and the dollar trended up in value overall, especially from July until September. However, gold prices gained greater momentum and increased by a greater measure than the dollar. Then, both values fell in September and October.
The relationship appeared to switch back to an inverse pattern in November.
Gold prices and the dollar-yuan exchange rate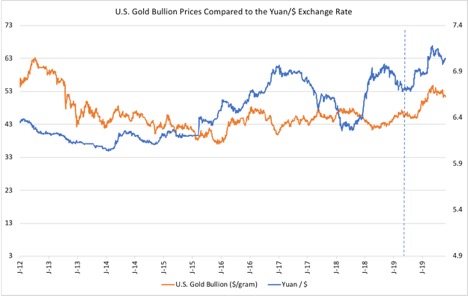 Because the value of the yuan is set by the central government, the graph above using the CNY/$ exchange rate serves as a proxy to examine the relationship between the currency and gold prices.
Keeping in mind that a higher value on the right axis means a weaker yuan, we should expect to see these two prices moving together.
As the yuan weakens against the dollar, gold prices weaken. As the yuan rises in value, gold prices rise in value.
In real life, the relationship gets impacted by multiple variables. The yuan and the dollar do not have to move in an inverse pattern; the yuan is not a commodity but a currency (the same is true for gold).
However, in recent months, the gold price appeared to more tightly follow the CNY/$ exchange rate in a predictive fashion, rather than holding to its longer-term inverse dollar relationship.
This type of pattern emerged during 2016, as well.
Will quantitative easing by the Fed send gold prices up in Q4?
Monetary policy is known to impact commodity prices.
Quantitative easing is a form of monetary policy; therefore, we can expect any such actions in this direction to impact gold prices.
Quantitative easing can be used when interest rates are already quite low. In effect, it increases liquidity in the system, thus spurring growth.
U.S. Federal Reserve balance sheet since 2008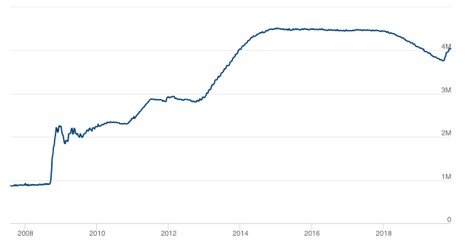 Quantitative easing occurs when the government purchases certain financial assets, which in turn raises the value of the assets but lowers their yield.
Basically, easing targets asset classes that are performing poorly, thus correcting losses for financial institutions. This, in turn, allows financial institutions to lower borrowing rates, creating more liquidity in the system.
The ease of access to funds by businesses and individuals then stimulates economic growth.
Looking for metal price forecasting and data analysis in one easy-to-use platform? Inquire about MetalMiner Insights today!
What this means for industrial buying organizations
With the overall macroeconomic environment characterized as unstable, gold prices may generally continue to trend higher in the short term, as gold gets used as a hedge.
However, over a longer period, current monetary policies could weaken prices once more — assuming they take effect as intended.