This Morning in Metals: U.S. Raw Steel Closes 2017 with 1.63M NT Output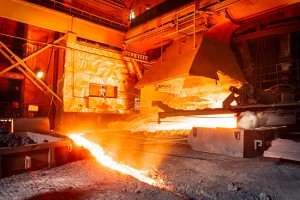 This morning in metals news, U.S. raw steel production for the final week of 2017 hit 1.63 million net tons, some Indian steel companies are upset about a hike in iron ore prices and zinc hits a 10-year high.
Benchmark Your Current Metal Price by Grade, Shape and Alloy: See How it Stacks Up
Raw Steel Production to Close '17 Falls From Previous Week
According to weekly data from the American Iron and Steel Institute (AISI), U.S. raw steel production for the week ending Dec. 30, 2017, hit 1,637,000 net tons (NT), which was up 1.9% from the same week in 2016 but down 4.7% from the previous week.
Adjusted year-to-date production through Dec. 30, 2017, was 90,106,000 NT, which was up 4.3% from the 86,379,000 NT during the same period in 2016.
Iron Ore Prices Up, Steel Companies Frown
According to a report from the Economic Times, a hike in iron ore prices has some Indian steel companies unhappy.
According to the report, Indian steel companies are worried that the rise in iron ore prices, among other materials, could force them to raise their prices.
Zinc Soars on Deficit Concerns
Zinc reached a 10-year high on expectations of a supply deficit, according to a Reuters report.
Free Sample Report: Our Annual Metal Buying Outlook
Benchmark zinc rose 0.9% to $3,349/ton, its highest price since August 2007, according to the report.