This Morning in Metals: Rio Tinto Finds Copper at Grasberg for First Time Since 2014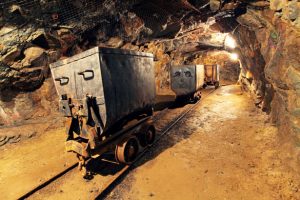 This morning in metals news, Rio Tinto made a copper discovery at its Grasberg mine for the first time since 2014, automakers urge Trump not to withdraw from the North American Free Trade Agreement (NAFTA) and copper hits a 3 1/2-week low.
MetalMiner's Annual Outlook provides 2018 buying strategies for carbon steel
Rio Makes Copper Find at Grasberg
Rio Tinto made a copper discovery at its Grasberg mine, marking the first discovery of copper at the location since 2014, Bloomberg reported.
The discovery comes as Rio is considering leaving its Indonesian mine operation, according to the report. Rio's total mined copper output declined by 9% last year, according to the report.
Don't Pull Out of NAFTA: Automakers
As renegotiation talks focusing on NAFTA continue, automakers once again urged the president not to pull out of the trilateral trade deal.
According to Reuters, automakers urged the president not to terminate the deal and were hopeful a renegotiated deal can be reached among the member nations (the U.S., Canada and Mexico).
Trump has threatened to withdraw from the deal, inked in 1994, as manufacturing and labor group in the U.S. have argued NAFTA has seen jobs leave the country for Mexico. Meanwhile, other groups, like automakers, have indicated a desire to see the deal modernized for the 21st century, as opposed to spiking the deal entirely.
Regardless, pulling out of NAFTA would have a significant impact on a wide range of interconnected supply chains across North America.
The parties involved in the renegotiation hoped to reach a deal by the end of 2017, but that schedule proved to be overly ambitious. Now, negotiators will look to hammer something out during what is an election year in all three countries.
Copper, Nickel Slide
Copper fell to a 3 1/2-week low and nickel dropped by more than 5% on Tuesday, according to Reuters.
After zinc closed out 2017 on a hot streak, it has come back down to earth a bit after not unexpected profit-taking, according to the report.
Wondering how your stainless steel prices compare to the market? Benchmark with MetalMiner
Copper, too, also fell as the U.S. dollar steadied (the two are inversely correlated), hitting an index value of 90.61 as of 12:15 p.m. EST Tuesday.