Raw Steels MMI: Domestic Steel Price Momentum Slows
The Raw Steels Monthly Metals Index (MMI) traded sideways this month, driven by slower domestic steel price momentum. The current Raw Steels MMI fell to May 2018 levels.
Need buying strategies for steel? Request your two-month free trial of MetalMiner's Outlook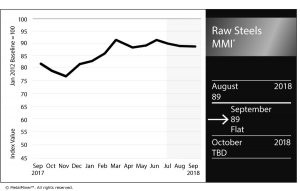 Domestic steel prices have started to fall slightly. Prices traded lower in August, showing some downward momentum. Buying organizations may want to remember that this year domestic steel prices have remained at more than seven-year highs.


All forms of steel decreased in August. HRC, CRC and HDG showed weaker momentum. Meanwhile, plate prices held stronger in August. Plate prices had the support of low metal availability. However, plate prices lost momentum at the end of August and prices decreased. So far in September, prices for all steel forms declined.
The recent slowdown in steel prices may comes down to historical steel price cyclicality. Domestic steel prices have remained in a sharp uptrend since January 2018. Prices have started to come off slightly but remain higher than last year's average.
Chinese Steel Prices
So far in September, Chinese steel prices have increased. Chinese steel prices increased in August, recovering price momentum. Chinese steel prices appear to be in a recovery and have started an uptrend, after a slight downtrend since the beginning of the year. Higher Chinese domestic demand has supported prices.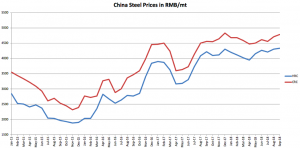 Chinese steel prices tend to drive U.S. domestic steel prices. Therefore, buying organizations may want to keep a close eye on pricing.
The Spread
The hot-rolled coil and cold-rolled coil spread seems to be weaker than historical pricing.
The spread has been historically around the +/- $100/st level. However, the spread started a divergence back in November 2015, reaching around $200/st. 
The current spread now stands at $79/st. This means that CRC and HRC prices have become closer than anticipated. Market anomalies sometimes create divergences in prices. However, this may correct soon.
What This Means for Industrial Buyers
Since steel prices remain high, buying organizations may want to follow price movements closely to decide when to commit to mid- and long-term purchases. Adapting the right buying strategy becomes crucial to reducing risks.
Only the MetalMiner monthly outlooks provide a continually updated snapshot of the market from which buying organizations can determine when and how much to buy of the underlying metal. Click here for more information on how to mitigate price risk year-round and request your two-month free trial.
MetalMiner's Annual Outlook provides 2018 buying strategies for carbon steel
Actual Raw Steel Prices and Trends
The U.S. Midwest HRC 3-month futures price fell this month by 3.68%, falling to $785/st.
Chinese steel billet prices increased sharply this month by 11.56%, while Chinese slab prices increased just by 1.17%, moving to $634/mt.
The U.S. shredded scrap price closed the month at $354/st, decreasing from last month.