Automotive MMI: Several Top Automakers Slump in September U.S. Sales
The Automotive Monthly Metals Index (MMI) held flat this month, holding for a reading of 96 for our October MMI.
Need buying strategies for steel? Request your two-month free trial of MetalMiner's Outlook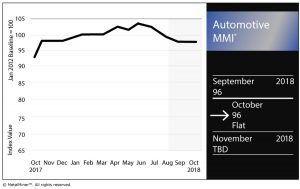 U.S. Auto Sales
General Motors, which now reports sales on a quarterly basis, reported a Q3 year-over-year sales decline of 11%.
"The U.S. economy and auto industry remain strong," GM Chief Economist Elaine Buckberg said in a release. "A new United States-Mexico-Canada trade agreement will reduce uncertainty for the auto industry and all three countries. Consumer confidence is high and rising, thanks to the robust job market, faster wage growth and the boost to take-home pay from tax reform. We believe 2018 will be the fourth year in a row with total industry sales above 17 million units."
Meanwhile, Ford Motor Co., after a solid August, reported September sales were down 11.2% year over year, with drops even in its truck and SUV sales of 9.9% and 2.7%, respectively. Ford car sales were down 25.7% in the month.
Fiat Chrysler, on the hand, reported a 15% increase compared with September 2017 sales.
"Our Ram and Jeep brands propelled both our retail and total sales to their highest levels in 18 years," said Reid Bigland, head of U.S. sales, in a prepared statement.
Honda's U.S. sales were down 7.0% year over year, while Nissan was down 12.2%.

Tesla Tension
Tesla CEO Elon Musk has featured prominently in the news over the last year, often not for the best of reasons.
Most recently, Musk agreed to resign as chairman following an agreement with the SEC over fraud charges regarding his Aug. 7 tweet in which he claimed he could take Tesla private.
"According to the SEC's complaint, Musk's misleading tweets caused Tesla's stock price to jump by over six percent on August 7, and led to significant market disruption," an SEC release stated.
"According to the SEC's complaint against Tesla, despite notifying the market in 2013 that it intended to use Musk's Twitter account as a means of announcing material information about Tesla and encouraging investors to review Musk's tweets, Tesla had no disclosure controls or procedures in place to determine whether Musk's tweets contained information required to be disclosed in Tesla's SEC filings. Nor did it have sufficient processes in place to that Musk's tweets were accurate or complete."
Both Tesla and Musk have agreed to pay $40 million in fines.
The electric vehicle maker, however, did boast some positive numbers in its recently released production report this week.
Tesla churned out 80,142 vehicles in Q3, 50% more than its all-time high.
Autos and Tariffs
As we reported last week, the impact of tariffs on the auto industry was the topic of the day during a Senate Finance Committee hearing.
In comments throughout the hearing, several of the committee members indicated they believed tariffs on automobiles or automotive parts were not the answer.
"Our trade policy should strengthen our relationships with our allies while targeting China's most harmful trade practices," Chairman Orrin Hatch (R-Utah) said. "Tariffs on autos and auto parts are not going to help us achieve any of these things."
The U.S. Department of Commerce launched a Section 232 investigation of imports of automobiles and automotive parts in May.
In related news, the U.S., after more than a year of talks, reached a deal with both Mexico and Canada on a revamp of the North American Free Trade Agreement (NAFTA) — now known as the United States-Mexico-Canada Agreement (USMCA).
The deal also included some news on the automotive front.
"The new agreement will require a higher percentage of a car to be manufactured in North America to qualify for zero tariffs," MetalMiner's Stuart Burns wrote yesterday. "If Canada mirrors Mexico, as seems probable, the percentage must increase from 62.5% to 75%. In addition, for the first time the deal requires that a percentage of any vehicle that qualifies for zero tariffs must be manufactured in a factory where the average production wage is at least $16 an hour, a figure comfortably exceeded in the U.S. and Canada but which will present challenges and have consequences for vehicle production in Mexico."
For more efficient carbon steel buying strategies, take a free trial of MetalMiner's Monthly Outlook!
Actual Metal Prices and Trends
U.S. HDG steel fell 5.7% to $1,022/st. U.S. platinum bars rose 4.8% to $814/ounce, while palladium bars rose 9.3% to $1,070/ounce.
Chinese primary lead fell 4.5% to $2,678.12/mt.
LME copper rose 5.7% to $6,180/mt. U.S. shredded scrap steel fell 1.1% to $350/st.
The Korean 1050 coil premium fell 0.3% to $3.61/kilogram.