Raw Steels MMI: Domestic Steel Prices Show Slowing Momentum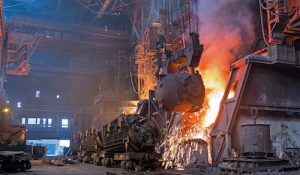 The Raw Steels Monthly Metals Index (MMI) decreased this month, dropping two points for an MMI reading of 87 points. The Raw Steels MMI had held at 89 points since August.
Need buying strategies for steel? Request your two-month free trial of MetalMiner's Outlook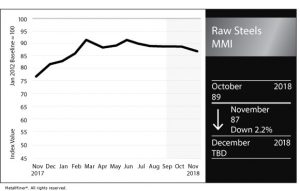 Domestic steel prices have showed slowing momentum since June 2018. Domestic steel prices increased sharply at the beginning of the year, driven by a bullish market in commodities and industrial metals and the Section 232 tariffs.
Buying organizations may want to remember that domestic steel prices have remained at more than seven-year highs this year.


Hot-rolled coil, cold-rolled coil and hot-dip galvanized prices decreased in October. Meanwhile, plate prices increased this month, supported by lower metal availability.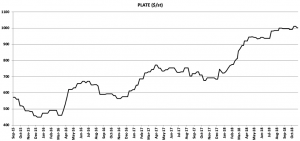 With budgeting season in full gear, domestic steel prices may start increasing at some point between November and January, according to historical steel price cyclicality analysis. Therefore, companies will need to know when and how much to buy.
Chinese Steel Prices
So far in November, all forms of Chinese steel prices have decreased. Chinese domestic steel prices started to decrease at the end of October, driven by the start of the winter season.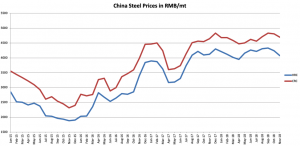 But the real question to ask around Chinese steel prices appears less apparent. Have prices really declined in RMB and has the currency moved (i.e., has the RMB depreciated) such that the steel price from a U.S. buyer's perspective appears to be dropping?
When looking at the price of Chinese steel (HRC and CRC) in U.S. dollars, prices have in fact decreased.
We can do a simple calculation, looking at the percentage decrease from September 2018 to November 2018 in Chinese steel prices in RMB and USD. Chinese HRC prices in RMB decreased 6% in that period, while CRC prices dropped by 3% in the same time frame (also in RMB).
The same calculation in USD results in a 7% decrease for HRC prices and a 4% decrease for CRC.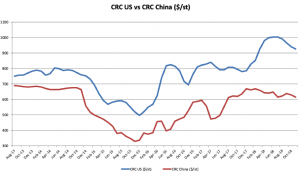 The depreciation of the yuan has moved Chinese steel prices lower from a U.S. buyer's perspective. A weaker currency makes Chinese goods more appealing, despite the tariffs.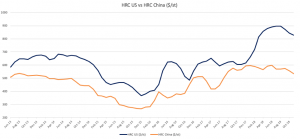 The Spread and Cost Calculation
When looking at the historical spread, readers can see that the spread has been increasing for most 2018.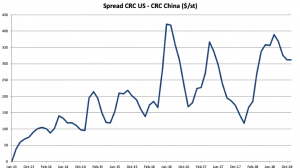 The spread between U.S. CRC prices and CRC Chinese prices has increased sharply since the beginning of 2018. The slope of the increase is even larger over the March-April period, when domestic steel prices skyrocketed.
The larger spread does not come about only due to higher U.S. domestic steel prices, but also by a weaker yuan. The combination of both factors has resulted in a lower Chinese price (and a larger spread).
To answer the question of importing steel from China or not, let's look at U.S. versus Chinese prices.
Considering November prices in $/st for HRC and CRC in both countries, the freight at $90/st and the 25% steel tariff, the final price still appears to be appealing for U.S. buyers.



Chinese prices could still increase by 8% or U.S. prices could still decrease by 8% (in the event of the other moving flat) without any change in the final price for both.
What This Means for Industrial Buyers
Buying organizations may want to pay close attention to Chinese and U.S. price dynamics to decide when to commit to mid- and long-term purchases. Adapting the right buying strategy becomes crucial to reducing risks.
Only the MetalMiner monthly outlooks provide a continually updated snapshot of the market from which buying organizations can determine when and how much to buy of the underlying metal.
For more information on how to mitigate price risk year-round, request a free trial to our Monthly Metal Buying Outlook.
MetalMiner's Annual Outlook provides 2019 buying strategies for carbon steel
Actual Raw Steel Prices and Trends
The U.S. Midwest HRC 3-month futures price increased this month by 0.37%, moving to $813/st.
Chinese steel billet prices fell this month by 1.71%, while Chinese slab prices fell by 4.66% to $600/mt.
The U.S. shredded scrap price closed the month at $342/st, decreasing from last month.