Stainless MMI: LME Nickel Prices, Stainless Surcharges Fall
The Stainless Steel Monthly Metals Index (MMI) fell in November. The index moved back towards September 2017 levels (when it hit 67 points).  The current index stands at 68 points.
The drop came as a result of lower LME nickel prices and lower U.S. stainless steel surcharges.
Need buying strategies for steel? Request your two-month free trial of MetalMiner's Outlook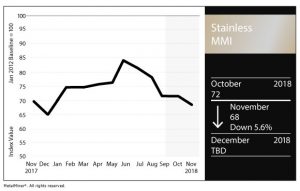 LME Nickel
LME nickel prices traded lower in October.
Nickel prices decreased sharply at the end of the month, showing greater volatility than in the past couple of months. However, nickel prices still appear to be strong and trading volumes seem supportive of the uptrend.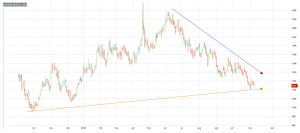 Nickel Global Tightness
The global nickel deficit continued to widen this year.
During the beginning of the year, the deficit widened to 106,000 tons from 60,800 tons during the same period in 2017.
However, the latest monthly data show a narrower deficit.
The latest data, published in October, signaled a deficit at 7,100 tons in August versus the previous 16,500-ton deficit in July.
Chinese nickel production dropped 8% due to a fire at the Kalgoorlie smelter in Australia. Full production should return later this month.
Japan's Sumitomo Corp lowered its forecast for nickel output at its Ambatovy project in Madagascar to 40,000 tons. The initial projection called for 48,000 tons.
The decrease in nickel production came as a result of bad weather and a slow ramp-up after maintenance.
Domestic Stainless Steel Market
Domestic stainless steel surcharges fell again. This is the fourth consecutive drop in stainless steel surcharges this year.
The 316/316L-coil NAS surcharge fell to $0.91/pound, while the 304/304L decreased to $0.63/pound.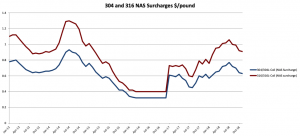 The stainless steel surcharge has started a short-term downtrend, driven by the general slowdown in the steel and stainless steel markets.
However, stainless steel surcharges still remain well above 2015 lows.
What This Means for Industrial Buyers
Stainless steel price momentum slowed down again this month, similar to carbon steel. However, nickel prices still remain strong.
Buying organizations may want to follow the market closely for opportunities to buy on the dips. To understand how to adapt buying strategies to your specific needs on a monthly basis, request a free trial of our Monthly Outlook now.
For more efficient carbon steel buying strategies, take a free trial of MetalMiner's Monthly Outlook!
Actual Stainless Steel Prices and Trends
Both Chinese 304 stainless steel coil decreased by 1.78%, while Chinese 316 stainless steel coil prices dropped 1.48% this month.
Meanwhile, Chinese Ferrochrome prices increased this month by 0.85%, up to $1,857/mt. Ferro Molybdenum lump prices jumped 7.5%, reaching $20,505/mt. Nickel prices also fell this month, dropping by 7.34% to $11,675/mt.