Global Precious MMI: U.S. Dollar Gains Strength; Markets Await Fed Chairman's Testimony This Week
The Global Precious Monthly Metals Index (MMI) picked up eight points, rising for a July MMI value of 101.
Need buying strategies for steel? Request your two-month free trial of MetalMiner's Outlook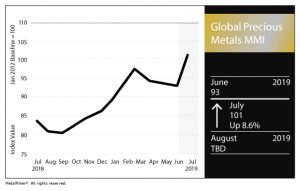 The U.S. Dollar and Precious Metals
This past month, MetalMiner chatted with Americas Silver Corporation CEO Darren Blasutti to talk about the precious metals market.
In an analysis, MetalMiner's Belinda Fuller noted the U.S. dollar still reigns supreme as the world's reserve currency, despite speculation that the yuan could eventually overtake it.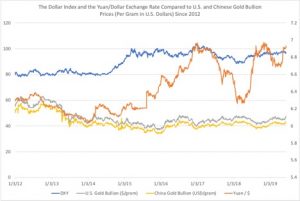 "U.S. and Chinese gold bullion prices, as seen in the chart above, move closely together," Fuller explained. "Meanwhile, they both tend to move inversely against the dollar.
"In other words, as the dollar gains strength, gold prices grow weaker in both countries.
"The yuan fluctuates more widely against the dollar, with little apparent impact on gold prices."
As with other metals, gold price are inversely correlated with the U.S. dollar. The U.S. dollar fell to just under 96 on June 24, but has since gained momentum, rising to 97.50 as of Tuesday afternoon.
The gold price dropped in late June amid the dollar's recent surge. It picked back up, however, before dropping again early this week.
Amid slumping silver prices, Americas Silver Corporation has shifted some of its focus to gold, in addition to lead and zinc. Blasutti noted the company is keeping higher-grade silver in the ground, for now, until silver prices experience a resurgence.
"When silver does come back, we can increase ounces quite dramatically on the silver side," Blasutti said.
The company acquired the Relief Canyon Mine in Nevada, where it expects to begin gold pouring later this year.
"Part of the impetus to get back to precious metals was to get a commodity that we thought had less volatility," Blasutti said. "Gold has shown to have less volatility in the last period, much more than the base metals. Base metals traded in a range and gold has traded in a range, but the range hasn't been severe [for gold]."
In other news, market watchers are anticipating testimony from Federal Reserve Chairman Jerome Powell before the House of Representatives on Wednesday, particularly with respect to any commentary regarding potential interest rate cuts after hikes late last year.
Powell has come in for repeated criticism from President Donald Trump for the Fed's rate hikes. This week, Larry Kudlow, the National Economic Council director, called the rate hikes "unnecessary," CNBC reported.
The Palladium-Platinum Spread
Elsewhere in the index, the spread between palladium and platinum widened once again, this month to $682/ounce.
MetalMiner's Annual Outlook provides 2019 buying strategies for carbon steel
The palladium price soared to its highest level since March, hitting $1,516 per ounce as of July 1. Meanwhile, the platinum price also rose, but more modestly.
Actual Metal Prices and Trends
The U.S. silver price ticked up to $15.29/ounce as of July 1, marking a 3.5% month-over-month increase.
U.S. platinum bars rose 1.7% to $834/ounce. U.S. palladium bars surged 15.8% to $1,516/ounce.
Chinese gold bullion jumped 4.7% to $44.95/gram, while U.S. gold bullion rose 6.3% to $1,408.90/ounce.