Raw Steels MMI: Weak U.S. Prices Lead to One-Point Index Decline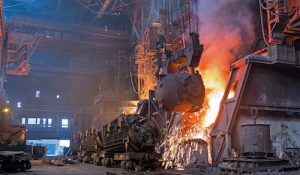 The Raw Steels Monthly Metals Index (MMI) fell slightly this month, following last month's more significant decline. The index came in at 75 this month, down one point from the previous month.
Need buying strategies for steel? Request your two-month free trial of MetalMiner's Outlook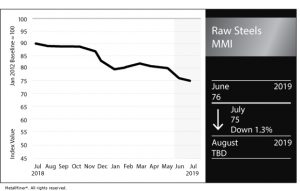 U.S. steel prices continued their clear drop this month, with prices dropping for HRC, CRC, HDG and plate.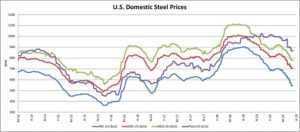 HRC prices dropped by around 12% over the course of June, the steepest price decline in the Raw Steels basket of metals. HDG dropped by around 7%. CRC and plate prices dropped by 5% and 4%, respectively.
Recently, the American Iron and Steel Institute (AISI) reported that U.S. steel production capacity utilization reached 79.4% during the week ending on July 6, up from 77.4% one year ago. Capacity utilization decreased from the prior week by 0.2%.
Production totaled 1.85 million tons for the week, with year-to-date production at 50.46 million net tons based on a capacity utilization of 81.2%. So far this year, production numbers increased by 5.3% compared to the same period last year.
According to the most recently published U.S Census Bureau numbers, May steel imports dropped to a value of $1.9 billion, compared with $2.5 billion in April. In May, imports totaled 1.9 million metric tons compared to 3 million metric tons in April. Imports of blooms, billets and slabs dropped during May, while imports of reinforcing bars, sheets and strip, and heavy structural shapes increased.
Through the first four months of the year, imports totaled 10.4 million metric tons, down from 11.3 million metric tons during the same period of 2018. While imports of hot-rolled and cold-rolled sheets fell, imports of blooms, billets and slabs increased compared with the same period last year.
The U.S. Department of Commerce ruled July 8 in favor of duties on structural steel imports from China and Mexico based on the argument that the imports benefited from state subsidies. Meanwhile, the Department of Commerce made a negative determination with respect to imports of fabricated structural steel from Canada, finding Canadian exporters benefited from countervailable subsidies ranging from 0.12-0.45%.
Chinese HRC, CRC Prices Moving Sideways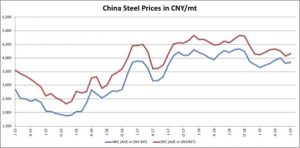 Rather than continuing to drop, prices of HRC and CRC increased slightly this month; however, they did not fully recover from the previous month's price drops. HDG and plate prices, meanwhile, continued to drop into early July.
The Chinese government's stimulus measures, combined with additional capacity closures, appear to be supporting some prices at this time.
Reuters recently reported Hebei, China's top steelmaking province, moved up its December 2019 capacity cut targets by two months to the end of this October, according to provincial authorities.
Coal and coke will also see planned reductions of 10 million tons and 3 million tons, respectively. as authorities continue to work on improving air quality. Last year, around 12 million tons of steel capacity, along with some coal and coke capacity, were eliminated in the region and some cities closed steel production.
Regardless, Chinese steel output in aggregate continues to rise in 2019, as demonstrated by the production volume statistics published by TradingEconomics.com. Figures indicate steel production hit a new monthly high in May of around 89.1 million tons, up from the then-monthly high in April of 85 million tons.
With iron ore prices still high and representing around 30% of the price of steel, this may also provide some support to Chinese steel prices.
What This Means for Industrial Buyers
The global steel prices tracked by the index showed mixed performance this month, with U.S. prices showing the greatest weakness.
The U.S. Midwest HRC futures spot price dropped significantly, while the U.S. Midwest HRC futures 3-month price increased, showing some bullishness despite currently falling prices.
With prices giving mixed signals, industrial buying organizations seeking more pricing guidance should request a free two-month trial of our Monthly Metal Buying Outlook report.
Buying organizations will also want to read more about longer-term steel price trends can do so with MetalMiner's Annual Outlook.
Actual Raw Steel Prices and Trends
Once again, U.S. prices registered the largest price decrease this month.
The U.S. Midwest HRC futures spot price dropped by 7.6% on a month-over-month basis to $536/st, while the U.S. shredded scrap price dropped by 7.1% to $274/st.
In contrast, the U.S. Midwest HRC futures 3-month price increased by 2.4% to $600/st.
Korean standard scrap steel prices increased by 5% to $133/st. Korean pig iron prices increased by 1.9% to $341/st.
Want to a see Cold Rolled price forecast? Get two monthly reports for free!
China's HRC price fell by 3.5% to $497/st and steel slab dropped by 1.5% to 490/st, while other Chinese prices in the index increased. Steel billet increased by 2% to $493/mt, while the remaining Chinese prices increased in the range of 0.5% to 1%.