Norsk Hydro to Supply Aluminum for Audi's First Fully Electric Model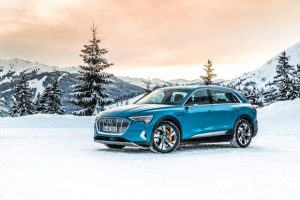 Oslo-based Norsk Hydro has entered into an agreement with Audi to supply aluminum for the battery housing of the automaker's first fully electric model.
The aluminum, Hydro says, is "processed and manufactured along the entire value chain in an environmentally conscious manner and under socially acceptable working conditions," conditions which have been confirmed by the Aluminum Stewardship Initiative (ASI).
Buying Aluminum in 2019? Download MetalMiner's free annual price outlook
According to Hydro, Audi received ASI certification for assembly of aluminum components late last year.
"This means that the aluminium sheets processed in the battery housing of the Audi e-tron are now demonstrably produced in a responsible manner along the entire value chain, from the extraction of the bauxite raw material to the end product," Hydro said in a release.
"We are very proud to supply ASI-certified metal, especially for the Audi e‑tron, one of Audi's flagships. We are constantly working on reducing our impact and that of our customers on the environment," said Einar Glomnes, Hydro's executive vice president. "This is an important milestone in our strategy of helping our customers to document the fact that they offer aluminium products that are procured and produced responsibly along the entire value chain."
Audi is aiming to reduce its carbon dioxide emissions by 15% by 2025 (compared with 2015 emissions levels).
Even longer-term, Dr. Bernd Martens, a member of Audi's Board of Management for Procurement and IT, said Audi wants to offer customers carbon-dioxide-neutral options by 2050.
To do that, we need a sustainable supply chain," Martens said. "We therefore seek dialogue with our partners and, together with them, want to significantly reduce CO2 emissions along the entire value chain."
In other news, Hydro reported its second-quarter earnings earlier this month.
Hydro reported underlying EBIT of NOK 419 million (U.S. $48.3 million), up from NOK 364 million (U.S. $42.0 million) in Q2 2018.
Want to see an Aluminum Price forecast? Take a free trial!
"Alunorte reached 80-85 percent capacity utilization in June, within the targeted 75-85 percent capacity utilization for the state-of-art press filter technology," President and CEO Hilde Merete Aasheim said in a prepared statement. "Paragominas and Albras are also ramping up successfully. This is a great achievement by the Brazilian organization."
Hydro's Alunorte refinery had been operating at 50% capacity since early 2018, when Brazilian authorities imposed production constraints after a spill at the plant. In May, Brazilian authorities gave Hydro the green light to resume full production at the Alunorte refinery.