The September MMI Report: Stainless MMI Jumps on Rising Nickel Prices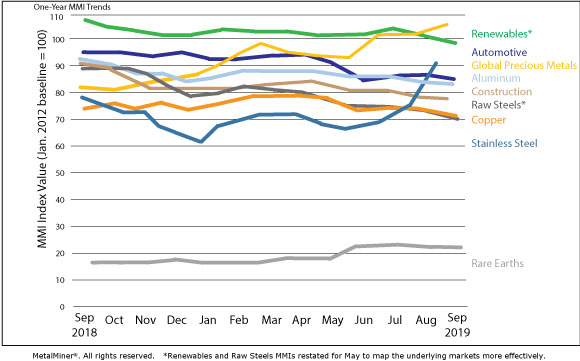 The September 2019 Monthly Metals Index (MMI) report is in the books.
This month, three of 10 MMIs increased, while six decreased and one held flat.
On the trade front, the U.S. and China are set to resume trade talks, with the U.S. recently deciding to delay a tariff rate increase and China announcing tariff exemptions for some U.S. agricultural goods, including pork and soybeans.
Elsewhere, the U.S. is readying billions of dollars in tariffs against the E.U. — including on copper alloys — in retaliation for the latter's subsidies for aircraft manufacturer Airbus.
A few highlights from this month's MMIs:
The Stainless MMI surged 21.3% on the back of skyrocketing nickel prices.
U.S. automotive sales were forecast to rise 5% in August, according to a report released jointly by J.D. Power and LMC Automotive.
Cobalt prices have experienced a resurgence on the heels of Glencore's plans to idle production at its Mutanda cobalt mine in the Democratic Republic of the Congo.
[s3medialinksafe title="Download the Report Here" file="MMIReport_September2019.pdf" expireseconds="300″ target="_blank" /]