Stainless Steel MMI: LME Nickel Price, Stainless Surcharges Both Rise
The Stainless Steel MMI (Monthly Metals Index) jumped four points again this month for a February reading of 75.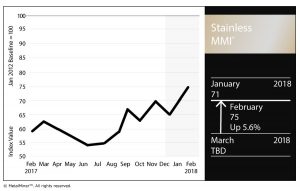 Need buying strategies for steel? Try two free months of MetalMiner's Outlook
In January, skyrocketing LME nickel prices drove the Stainless Steel MMI. Nickel prices have climbed above the $13,000/mt level. 304 and 316 surcharges increased this month, returning to their previous levels.
LME Nickel
Nickel prices increased sharply during January. However, prices decreased slightly in early  February. As reported previously by MetalMiner, nickel price volatility has increased over the past few months. Therefore, nickel prices may prove quite tumultuous from a short-term perspective and are trading within the orange-dotted band in the chart below.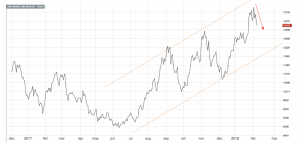 The long-term nickel price uptrend also remains strong. Prices have moved toward June 2015 levels and already breached our October 2017 long-term resistance levels, as per our Annual Outlook. Therefore, nickel prices remain in a strong uptrend and could continue increasing in the coming months.
Domestic Stainless Steel Market
Following the recovery in stainless steel momentum, domestic stainless steel surcharges increased this month. Surcharges remain above last year's lows (under $0.4/pound); they remain in an uptrend, even if their pace has slowed. However, buying organizations may want to look at surcharges closely to reduce risks, either via forward buys or hedging.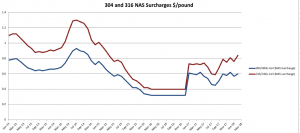 FerroChrome vs. Chrome Metal
Two months ago, MetalMiner reported on the anomaly between ferrochrome and chrome metal prices.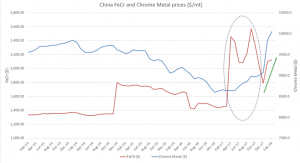 Ferrochrome (FeCr) is a chromium and iron alloy containing 50% to 70% chromium by weight. Historically, Ferrochrome and chrome prices correlate tightly but the high iron ore prices caused ferrochrome to spike. However, both prices (ferrochrome and chrome) have fallen back to their historical trading pattern of moving together.
What This Means for Industrial Buyers
Stainless steel momentum appears in recovery, similar to all the other forms of steel. As both steel and nickel remain in a bull market, buying organizations may want to follow the market closely for opportunities to buy on the dips. To understand how to adapt buying strategies to your specific needs on a monthly basis, take a free trial of our Monthly Outlook now.
MetalMiner's Annual Outlook provides 2018 buying strategies for carbon steel
Actual Stainless Steel Prices and Trends
Generally, all the metals within the stainless steel basket increased this month.
Chinese 304 stainless steel coil prices increased by 2.33%, while Chinese 316 stainless steel coil prices jumped by 3.92%. Chinese Ferrochrome prices increased again this month by 1%, to $2,122/mt. Nickel prices increased by 6.6% to $13,545/mt.