Stainless Steel MMI: Subindex Inches Upward on Rising LME Nickel Prices
In May, the Stainless Steel Monthly Metals Index (MMI) once again inched one point higher. The current reading stands at 77 points.
Need buying strategies for steel? Try two free months of MetalMiner's Outlook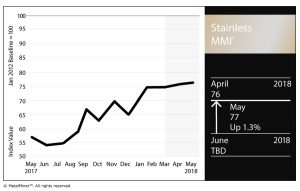 The subindex inched higher driven by increasing LME nickel prices. Meanwhile, other related metals in the stainless steel basket traded flat. Chinese ferrochrome alloy decreased for the second consecutive month, this month by 3.2%.
LME Nickel
In April, LME nickel prices increased sharply, following some of the other base metals uptrends (such as aluminum and copper).
LME nickel prices went up to $16,685/mt and then corrected. LME nickel prices in May remain in an uptrend, with current prices around $13,900/mt.



LME nickel prices remain in a long-term uptrend that started back in June 2017, when LME nickel prices hovered around $8,900/mt.
However, nickel price momentum seems slower now than it was back in 2017.
Since February, LME nickel prices have traded more sideways. Buying trading volume still supports the uptrend, which may result in increasing nickel prices in the coming months.
Domestic Stainless Steel Market
Following the recovery in stainless steel price momentum, domestic stainless steel surcharges increased again this month. The 316/316L-coil NAS surcharge reached $1.01/pound, while the 304/304L-coil NAS surcharge increased to $0.71/pound.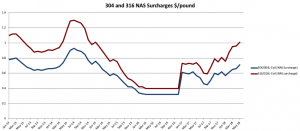 After last month's sideways trend for NAS stainless steel surcharges, the uptrend has started again. The 316/316L-coil NAS surcharge is currently moving toward the January 2013 peak of $1.12/pound. The surcharge has breached previous high peaks already.
China Stainless Steel Market
An abundance of stainless steel in China came as a result of new production in Indonesia. The Chinese-owned stainless company Tsingshan started production last August in Indonesia, with an annual capacity of around 3 million tons by the end of 2018. This annual capacity equates to 6% of last year's global stainless steel capacity.
Due to this increased production, China became a net importer of hot-rolled stainless coil already in December 2017 for the first time in more than seven years, according to the International Steel Statistics Bureau. Chinese stainless steel stocks have risen, while Chinese stainless steel prices have not. In fact, Chinese stainless steel price currently trade sideways.
The current divergence between increasing LME nickel prices and Chinese stainless steel prices, plus increasing stainless steel stocks, may drive some mills to cut production. 
MetalMiner's Annual Outlook provides 2018 buying strategies for carbon steel
What This Means for Industrial Buyers
Stainless steel price momentum appears to be strong this month, as stainless steel surcharges increased sharply.
With nickel in a bull market, buying organizations may want to follow the market closely for opportunities to buy on the dips. Hedging nickel may result in potential savings opportunities for buying organizations.
To understand how to adapt buying strategies to your specific needs on a monthly basis, take a free trial of our Monthly Outlook now.