Podcast Ep. 4: What the USS Gabrielle Giffords Means to the Aluminum Industry
Now that the New Year has begun, we're getting ever closer (hopefully) to the Commerce Department's final recommendations on the Section 232 investigation.
Today we continue our podcast series that we're calling "Manufacturing Trade Policy Confidential," in which we turn our focus to the aluminum industry. Our guest is Heidi Brock, the president and CEO of the Aluminum Association, whom we spoke with just before the winter holidays. She works tirelessly on behalf of the association's members, which span the entire value chain. Heidi does find moments, however, to take a step back and see the bigger picture.
Recently, she got to see the newly commissioned USS Gabrielle Giffords, a warship named after the former Arizona congresswoman, and it left her with a sense of awe. "I just can't tell you what an amazing experience it was," she said.
To hear more on what a strong domestic aluminum sector has to do with national security, and how the aluminum sector views other hot trade issues of the moment and why, listen in to Lisa Reisman's conversation with Heidi Brock.

Here's Heidi in front of the U.S. Navy littoral combat ship USS Gabrielle Giffords: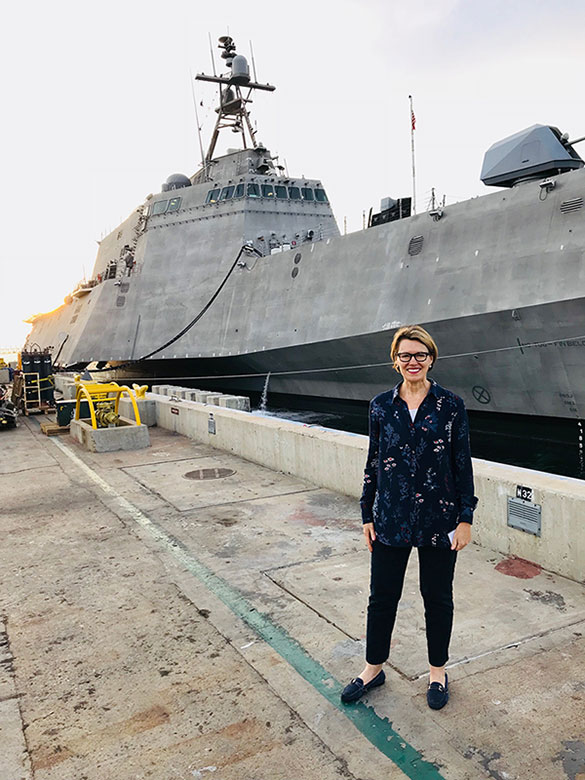 For an additional sense of scale, here's an "aerial view of the ship during its launch sequence at the Austal USA shipyard, Mobile, Alabama," according to Wikipedia, from a photo provided by the U.S. Navy: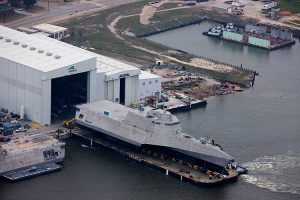 Manufacturing Trade Policy Confidential: Background
With everything that's been happening on the international trade policy front over the past year, we wanted to give metal buying organizations more insight into the issues they may not be reading or hearing enough about — or at all — in the mainstream B2C media.
What better way to do so than go straight to the source — or sources — and interview some key movers and shakers on the manufacturing and policy fronts? So we've started a brand-new series called "Manufacturing Trade Policy Confidential."
If you've visited MetalMiner's digital pages over the past several months, you're no stranger to the phrase "Section 232" — shorthand for the U.S. Department of Commerce investigation into whether certain steel imports constitute a national security risk, under the namesake section of the U.S. Trade Expansion Act of 1962.
The outcome of the investigation (findings from which were slated to come down last summer but have been delayed) could have significant effects on upstream and downstream manufacturing organizations, ranging from metal producers to buying organizations – even the mom-and-pops.
But Section 232 is only one small part. Trade circumvention, China's non-market economy status, domestic uncertainty amidst proposed tax plans and many other issues have pushed us to start this new podcast series.
We'll be publishing several more interviews in the coming weeks and months – stay tuned!
Listen to more episodes and follow the MetalMiner Podcast on SoundCloud.