Global Precious MMI: What's in the Forecast for Platinum, Palladium Prices?
MetalMiner's Global Precious Monthly Metals Index (MMI), tracking a basket of precious metals from across the globe, held steady for April and remained at an index value of 88 for the second straight month.
Need buying strategies for steel? Try two free months of MetalMiner's Outlook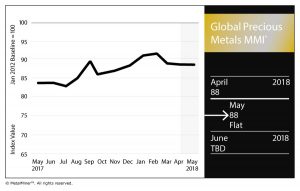 Ultimately, all else being equal, we can attribute the subindex's stasis to the divergence in platinum and palladium price movement.
While the U.S. palladium price bounced back from last month, gaining 1.2%, the U.S. platinum price dropped for the third straight month, according to the MetalMiner IndX. (The U.S. gold price, meanwhile, contributed to the stasis by dropping to its lowest price of 2018, and U.S. silver hardly budged from April to May.)
Palladium remains at a premium to platinum for the seventh month in a row.
Palladium and Platinum Forecast
The U.S. bar prices of both platinum-group metals (PGMs) held above $900 per ounce for the May 1 MMI reading, which is directly in line with analysts' views on the palladium's outlook as of a few weeks ago.
In mid-April, Stephanie Aymes, head of technical analysis at Societe General, told Reuters, "Palladium should find support at $900."
"The short-term ongoing rebound could fetch the 200-day moving average at $973/980, and this will decide on the extension (or not) of the recovery," she told the news service.
In a more recent Reuters survey that polled 28 analysts and traders, the consensus outlook appears a bit higher for the metal. The average palladium price view for 2018 was $1,039 per ounce, and $1,040 per ounce for 2019.
"We forecast demand growth in palladium to moderate in 2018 after two years of strong growth driven by autocatalyst demand," Deutsche Bank analyst Nicholas Snowdon was quoted as saying. "While we forecast autocat growth to continue, other elements of industrial demand are likely to decline in response to higher prices."
"We expect that 2018 could be the year of peak palladium prices in the foreseeable future as market deficits begin to decline," he continued, as quoted by Reuters.
For platinum, the polled analysts expect the metal's price to continue its "historically unusual discount" to palladium through 2019. For the balance of this year, platinum is forecast to see an average price of $983 an ounce.
"Platinum continues to face headwinds from the diesel emission scandal," Julius Baer, analyst at Carsten Menke, is quoted by Reuters as saying. "The share of newly sold diesel cars in Europe's five biggest markets kept on falling during the first quarter."
Platinum's other demand source — the jewelry market — has also taken a hit, especially in China.
Gold Price at Its Lowest for 2018
Global gold demand for Q1 2018 appeared to be the lowest quarterly reading since 2008, according to the World Gold Council. Mainly driven by waning investor interest in gold bars and gold-backed ETFs, the price followed suit.
The U.S. gold price ended up at $1,314.90 per ounce for the May 1 MMI reading, its lowest this calendar year.
Benchmark your current cold rolled coil sheet prices and see how it compares to the market
On the supply side, the money that exploration firms are spending to discover new ounces of gold — to the tune of $54.3 billion allocated over the next decade, according to S&P Global Market Intelligence — has not resulted in more new discoveries over the last decade, compared to the previous 18 years.