This Morning in Metals: Next Round of U.S. Tariffs on China Set to Go Into Effect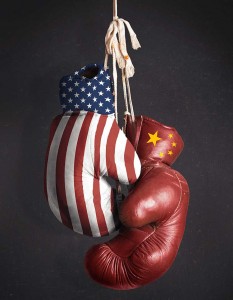 This morning in metals news, $16 billion in tariffs on imports of Chinese goods will go into effect tomorrow, optimism from the Mexican side is high with respect to a NAFTA deal and steel demand in India is pushing the global total toward a new record.
Need buying strategies for steel? Try two free months of MetalMiner's Outlook
Tariffs Going into Effect
The U.S. earlier this month announced it would impose an additional $16 billion in tariffs, on top of the $34 billion that went into effect in July. The new round of tariffs is set to go into effect Thursday, Aug. 23.
According to CNN, 80 industry groups testified during hearings on the tariffs held by the Office of the United States Trade Representative.
The list of items features 279 tariff lines (the originally proposed list featured 284 items), including electric motors, motorcycles and agricultural equipment (including irrigation equipment), among other things.
Making a Deal
Talks focused on renegotiating the North American Free Trade Agreement (NAFTA) began in August 2017 and have undergone round after round since then, with no resolution.
According to a Reuters report, however, Mexican trade officials were optimistic about a solution being reached in the near term.
"We hope that we'll have a solution in the next couple of hours, or the next couple of days," Mexican Economy Minister Ildefonso Guajardo was quoted as saying (prior to a meeting with U.S. Trade Representative Robert Lighthizer).
Chatter surrounding the 24-year-old trilateral trade deal has picked up in the weeks since the July 1 Mexican presidential election. Reshaping the trade deal, which accounts for over $1 trillion in annual trade, has been a stated goal of President Trump (who has referred to NAFTA as the "worst trade deal ever made").
The U.S. has sought to win concessions for a more favorable NAFTA, including a higher rules of origin auto content percentage. Under NAFTA, 62.5% of the auto content of a vehicle must originate in the U.S., Canada or Mexico in order to avoid tariffs in the North American market. That percentage was 50% upon NAFTA's inception in 1994 and rose to 56% in 1998.
Global Steel Demand Surges
Demand for steel is set to reach a record high for the second year in a row, partially thanks to surging demand in India, according to the Nikkei Asian Review.
Want to see an Aluminum Price forecast? Take a free trial!
Demand is projected to hit 1.61 billion tons this year, according to World Steel Association data cited by the report.