AISI: Year-to-Date Steel Capacity Utilization Rate Jumps to 78%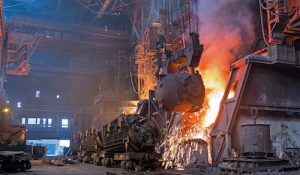 The U.S.'s capacity utilization rate for steel continues to inch toward that magic 80% benchmark.
Need buying strategies for steel? Request your two-month free trial of MetalMiner's Outlook
According to data from the American Iron and Steel Institute (AISI), the U.S.'s steel capacity utilization rate for the year through Nov. 17 reached 78%, up from 74.2% through the same point in 2017. U.S. steel mills have produced 83.7 million tons of steel through Nov. 17, up from 79.4 million in the same time frame last year.
For the week ending Nov. 17, domestic raw steel production hit 1.9 million net tons, with a capacity utilization rate of 82.1%. Meanwhile, for the same week in 2017, production was 1.7 million net tons, with capacity utilization rate of 73.3%.
On a week-to-week basis, production for the week ending Nov. 17 jumped 0.5% from the previous week.
Production by region (in thousands of tons) went as follows for the week ending Nov. 17, 2018: North East, 225; Great Lakes, 711; Midwest, 214; Southern, 692; and Western, 82.
MetalMiner's Annual Outlook provides 2019 buying strategies for carbon steel
Earlier this year, when the U.S. announced its Section 232 tariffs on steel and aluminum imports, the 80% mark was identified as the goal for the domestic steel and aluminum industries, being the mark at which the sectors are considered profitable and healthy. The capacity rate for 2017 reached 74.3% (through Dec. 30, 2017), up from 70.5% for 2016.
Earlier this month, AISI released its Steel Import Monitoring and Analysis (SIMA), which showed the finished steel import market share for October hit 21%, and was 23% through the first 10 months of the year.