Raw Steels MMI: HRC Prices Hit Highest Level in More than Two Years
The Raw Steels MMI (Monthly Metals Index) inched three points higher this month, reaching 86 points.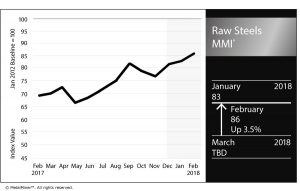 Steel price momentum appears to have continued as prices increased sharply in January. February has already signaled a continuation of this uptrend, with HRC prices breaching the $700/st level. HRC prices have reached the highest levels in more than two years and could continue to climb.
Need buying strategies for steel? Try two free months of MetalMiner's Outlook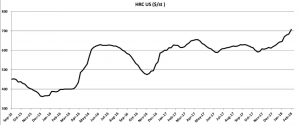 The spread between HRC and CRC prices fell this past month, returning to the  $140/st level. Since the beginning of 2016, the spread between HRC and CRC prices increased to around $200/st. The spread has returned to normal levels, with HRC prices increasing more than CRC prices.
President Trump has yet to release results from the Section 232 investigation. Commerce Secretary Wilbur Ross sent his Section 232 steel report to Trump last month; the president has 90 days as of Jan. 11 to act on the report's findings and recommendations.
Global Steel Sector
According to the World Steel Association (WSA), global production of crude steel increased by 5.3% during 2017. The world map below reflects some of the changes in steel production by country and the  impact on total steel output.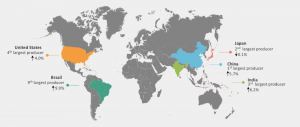 Chinese global production of crude steel increased by 5.7%. However, China's exports fell to 75.4 million tons last year from the previous 108.5 million tons. Japanese production of crude steel decreased by only 0.1%, while U.S. crude steel production increased by 4%.
According to Eurofer, European steel demand could increase by 1.9%. In 2017, European steel imports fell by 1% due to defensive trade measures.
Shredded Scrap
Shredded scrap prices increased again in January, shifting the latest short-term downtrend to an uptrend. The long-term uptrend remains in place, and scrap prices have now moved together with U.S. steel prices.
What This Means for Industrial Buyers
As steel price dynamics showed a strong upward momentum this month, buying organizations may want to understand price movements to decide when to commit mid- and long-term purchases. Buying organizations with concerns about the Section 232 outcome and its impact on the steel industry may want to take a free trial now to our Monthly Metal Buying Outlook. Our Monthly Outlook will include a detailed analysis of the Section 232 outcome.
For more efficient carbon steel buying strategies, take a free trial of MetalMiner's Monthly Outlook!
Actual Raw Steel Prices and Trends
The U.S. Midwest HRC 3-month futures price increased again this month by 6.8%, reaching $705/st. Chinese steel billet prices increased by 1.92%, while Chinese slab prices decreased by 0.5%, falling to $628/mt. The U.S. shredded scrap price closed the month at $323/st.