U.S. in Talks with Countries Regarding Potential Tariffs Exemptions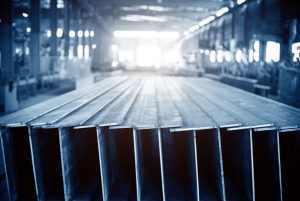 U.S. Trade Representative (USTR) Robert Lighthizer, speaking before the House Ways and Means Committee Wednesday morning, addressed a wide range of issues regarding the Trump administration's trade policy agenda, including steel and aluminum tariffs exemption negotiations with a number of countries.
Need buying strategies for steel? Try two free months of MetalMiner's Outlook

In the recently announced steel and aluminum tariffs of 25% and 10%, respectively, the administration formally announced an exemption process. As part of the tariffs announcement, fellow North American Free Trade Agreement (NAFTA) partners Canada and Mexico were granted temporary exemptions, "subject to a successful NAFTA renegotiation," Lighthizer said. In addition, he said the U.S. is in discussions with South Korea, which is currently engaging the U.S. in talks vis-a-vis "refurbishing" the U.S.-Korea Free Trade Agreement (KORUS).
In addition, the USTR is talking to Australia, Argentina and the European Union about potential exemptions, Lighthizer added. A number of other countries have come forward with exemption requests, he added, with Brazil being one with which talks could soon commence.
"Our hope is by the end of April to have this part of the process resolved," Lighthizer said in response to a question about the timeline of the exemption requests. "Having said that, the president has the authority at any time during the course of the program to let people out if he thinks its in the national economic interest."
Lighthizer outlined a series of trade policy goals during his opening statement, including: supporting the president's national security strategy; working to make U.S. companies and workers competitive in overseas markets; negotiating trade deals "that will work for Americans"; enforcing and defending U.S. trade laws; and reformation of the multilateral trading system, with Lighthizer calling out the World Trade Organization (WTO) in his remarks.
"For too long, the WTO has failed to promote trade liberalization," he said. "Too many members remain committed to an outdated Doha Round Agenda that is incapable of addressing modern issues like digital trade. Too many members also think that they can get their way through litigation, rather than negotiation.
"Perhaps most worryingly of all, the WTO has proven to be wholly inadequate to deal with China's version of a state-dominated economy that rejects market principles."
U.S Rep. Kevin Brady (R-TX), chairman of the committee, initiated the hearing with some comments on trade and other topics.
"I am hopeful we will be able to vote on and pass a new, modern NAFTA for America by year end," Brady said. "That said, the road ahead isn't easy. Congress wants strong protection for intellectual property, increased market access for our dairy farmers, and an end to Canada and Mexico's harshly restrictive customs barriers, such as unreasonably low de minimis levels."
Brady continued: "We need workable solutions on rules of origin and and procurement, that recognize how Americans benefit from global supply chains — otherwise, we lose out to China."
Brady also addressed Chinese steel oversupply, which has "put many Americans out of work," he said.
"It's a blatant theft of our companies' technology and intellectual property, and it can't be tolerated," he said.
NAFTA and the ISDS Debate, Proposed Sunset Clause
Regarding NAFTA, which recently underwent a seventh round of renegotiation talks, Brady, citing supporting from more than 100 Congressional Republicans, touched on the importance of strong investor-state dispute settlement (ISDS) provisions in any renegotiated iteration of NAFTA.
"This is a key part of passing a strong NAFTA agreement that we're convinced you'll negotiate well for us," Brady said to Lighthizer.
Lighthizer enumerated reasons for skepticism regarding ISDS, including questions of sovereignty.
"Why should a foreign national be able to come in and not have the rights of Americans in the American court system but have more rights than Americans have in the American court system?" he asked. "It strikes me as something that at least we ought to be skeptical of and analyze."
Committee member U.S. Rep. Sam Johnson (R-TX), meanwhile, expressed concerns regarding a proposed sunset clause put forth by U.S. negotiators — by which all three NAFTA nations would have to periodically reapprove NAFTA every five years — citing businesses' need for "certainty."
"The idea is if it's such a good agreement, we'll naturally roll it over," Lighthizer said. "If it's not a good agreement, we won't."
During the lifespan of NAFTA, which is now 24 years old, Lighthizer said the economy has changed and the U.S. has gotten "way out of whack" with what its deficits are.
Committee member and U.S. Rep. Sander Levin (D-MI) addressed the impact of Mexican labor policies, citing low take-home pay for Mexican workers as having a negative impact on the U.S. Lighthizer agreed that wage increases in Mexico are in the U.S.'s interest.
Section 301 Probe and Intellectual Property Rights
Media reports early this week indicated an announcement would soon be coming regarding the imposition of new tariffs against China — which could amount to about $60 billion — in response to what the U.S. perceives as intellectual property theft by China.
Last August, the USTR launched a Section 301 probe under the Trade Act of 1974, which sought to  "determine whether acts, policies, and practices of the Government of China related to technology transfer, intellectual property, and innovation are unreasonable or discriminatory and burden or restrict U.S. commerce."
"Our view is that we have a very serious problem of losing our intellectual property, which is really the biggest single advantage of the American economy, in my opinion," said Lighthizer, adding that the U.S. is losing that intellectual property in ways that are "not reflective of the underlying economics."
In response to the problem, Lighthizer said, potential remedies include actions on the tariffs and investor fronts.
An Update on KORUS
Lighthizer updated the committee on the progress of KORUS talks, explaining that negotiators are down to "the last few issues."
"In the opinion of many people, Korea is a particular problem in the area of steel primarily," he said. "We're trying to work our way through all of those things and we're hopeful that we can make headway on it. [My] objective would be … to have amendments to the agreement that will satisfy this committee."
Committee member and U.S. Rep. Dave Reichert (R-WA) expressed concerns regarding the Section 232 tariffs exclusion process and the possibility of tariffs stemming from the Section 301 probe, saying that American manufacturers and consumers would be hurt by an ineffective exclusion process and new tariffs on other imports. He also questioned Lighthizer regarding the transparency of the KORUS process, also asking if the USTR could publish a list of negotiation objectives.
Lighthhizer said it's unlikely that such a list would be published, but said he would be open to talking privately with committee members and reaching an agreement in principle "fairly quickly."
Lower your aluminum spend – Take a free trial of MetalMiner's Monthly Outlook!
"My objective is to try to do this as quickly as possible with as little disruption as possible," Lighthizer said regarding the KORUS talks.