Rare Earths MMI: Researchers Discover Rare Earths Deposit Under Japanese Waters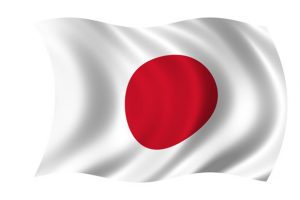 The Rare Earths Monthly Metals Index (MMI) lost one point this month, dropping to 20 for our May reading.
Need buying strategies for steel? Try two free months of MetalMiner's Outlook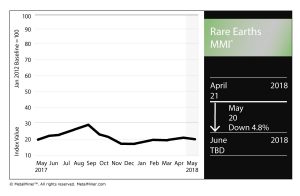 Within this basket of metals, yttrium dropped slightly, while terbium oxide fell 7.8%. Neodymium oxide dropped 7.9%.
Europium oxide fell 0.9%. Dysprosium oxide fell 4.2%.
A New Source?
As those who follow the rare earths metals market know, China has long boasted dominance in the sphere.
However, a recent discovery in Japan could lessen China's dominance in the market down the road.
According to a CNBC report, a study last month said a "semi-infinite" supply of rare earths has been discovered under Japanese waters.
According to the study, the seabed area where the rare earths were discovered "contains more than 16 million tons of rare-earth oxides."
Rare earths are coveted for their application in high-tech products, like cellphones and computers. As such, the materials are vital for Japan, which is a major player in the tech industry.
As Reuters reported in 2014, Japan sought to lessen its dependence on Chinese rare earths, looking to secure 60% of the materials from outside China.
What Does the Discovery Really Mean?
The aforementioned discovery made a big splash last month in global headlines, but how immediate could returns from the discovery be?
According to a rare earths primer published by the Nikkei Asian Review, those returns won't exactly come any time soon.
"One major problem, though, is the depth," the Nikkei Asian Review reported. "The metals are buried beneath waters as deep as 5,600 meters — too deep to extract with existing technology. The next step for researchers and companies will be to figure out how to reach them."
The news source goes on to note that given the cost-prohibitive nature of rare earths, many companies are looking for alternative materials for their high-tech products. As such, the basket of metals could become gradually less coveted over time.
For now, however, any discovery of a potential new supply source in the rare earths sphere is inevitably going to be a cause for celebration, even if extraction is not currently possible.
Tesla and Cobalt
It has been a turbulent couple of months for electric carmaker Tesla, which has taken a beating in headlines lately, particularly on the heels of what many deemed a dismissive performance from Elon Musk vis-a-vis analysts' questions during last week's quarterly earnings call.
However, in supply news, Musk offered insight into the company's stance on cobalt, used in electric vehicle batteries.
As mining.com reported, Musk last week said Tesla's nickel-cobalt-aluminum batteries contain less cobalt than other electric car batteries on the market, noting their battery "is already lower than next-generation cathodes that will be made by other cell producers with a nickel-manganese-cobalt ratio of 8:1:1."
MetalMiner's Annual Outlook provides 2018 buying strategies for carbon steel
Cobalt is coveted by the electric vehicle industry for its application in batteries, but it is notorious for significant price swings. A majority of the world's cobalt is mined in the Democratic Republic of the Congo, where political instability often impacts the metal's price.