Aluminum MMI: Prices Fall After Supply Concerns Ease
The November Aluminum Monthly Metals Index (MMI) fell this month back to June 2017 levels, before MetalMiner called a bull market for aluminum.
The current Aluminum MMI index stands at 88 points, three points lower than last month's reading.
Buying Aluminum in 2019? Download MetalMiner's free annual price outlook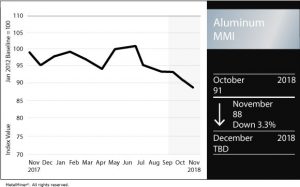 LME aluminum prices fell in October. Aluminum prices increased sharply at the beginning of the month, driven by a potential disruption to alumina supply. However, after supply concerns eased, prices fell sharply.



LME aluminum prices have traded since last July in the $1,970-$2,170/mt level. With the exception of the October two-day peak, aluminum prices have held above the strong support level of $1,970/mt since August 2017.
However, current prices now appear closer to that support level. Buying organizations may want to pay close attention to how aluminum prices react to that level.
Asian Aluminum Market
Chinese imports of U.S. aluminum scrap have dropped, driven by new environmental protection control standards that took effect in March. U.S. aluminum scrap may be rerouted to Europe.
India's aluminum makers, such as Hindalco Industries and Vedanta Ltd, have boosted sales to Japan, driven by U.S. sanctions against Russia's Rusal.
Import tariffs have impacted traditional supply routes.
Japanese rollers have historically preferred top-tier producers such as Rio Tinto, Alcoa or South 32.  However, aluminum ingot imports from January-August 2018 have doubled from last year. Both primary imports from India have increased as well as value-added products.
The bulk of the imports come as refined ingots instead of billets and slabs (i.e., value-added products). Japan seeks substitute materials for Rusal's higher-quality products, and has begun importing from the Middle East and Malaysia.
According to trade data, Japan imported 59,545 tons of aluminum ingot so far this year, 50% more than last year. Material flow from Russia decreased by 21%, down to 175,694 tons. 
U.S. Domestic Aluminum
The current U.S. Midwest aluminum premium has also traded sideways for the third consecutive month.
The current premium stands at $0.19/pound; despite the sideways trend for the premium, the current premium remains high.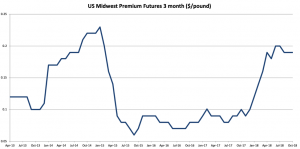 The Japanese Q4 premium decreased by 22% from Q3, falling to $103/mt. The decrease follows three quarters of rising premiums, caused by ample supply in the Asian markets.
What This Means for Industrial Buyers
Despite the recent slide in aluminum prices, the LME aluminum price trend suggests a continuation of the bull market that started last year.
Tariffs, sanctions and supply concerns will act as a support to aluminum prices, both for LME aluminum and the U.S. Midwest premium. Adapting the right buying strategy becomes crucial to reducing risks.
Only the MetalMiner monthly outlooks provide a continually updated snapshot of the market from which buying organizations can determine when and how much to buy of the underlying metal.
For more information on how to mitigate price risk year-round, request a free trial to our Monthly Metal Buying Outlook.
Want to see an Aluminum Price forecast? Take a free trial!
Actual Aluminum Prices and Trends
Aluminum prices fell this month, with a closing price in October of $1,966/mt.
Meanwhile, Korean commercial grade 1050 sheet fell by 4.37% to $3.28/kilogram following last month's downtrend.
Chinese aluminum primary cash prices decreased by 5.78%, while Chinese aluminum bar fell by 3.57%. Chinese aluminum billet prices also decreased 3.67% this month, to $2,079/mt.
The Indian primary cash price fell by 2.48% to $1.96/kilogram.