Stainless MMI Loses Nearly 8% as LME Nickel, Stainless Surcharges Fall
The Stainless Steel Monthly Metals Index (MMI) dropped five points this month, losing 7.6% and currently standing at a value of 61. The current index sits just above the August 2017 level of 59 points, when LME nickel prices touched support and rebounded. The drop came as a result of lower LME nickel prices and lower U.S. stainless steel surcharges.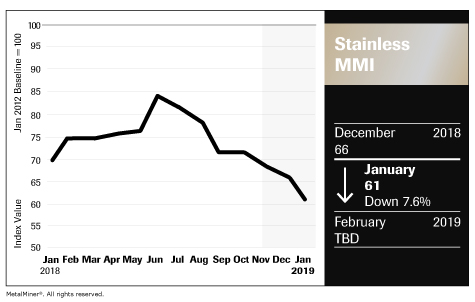 Need buying strategies for steel in 2019? MetalMiner's Annual Outlook has what you need
LME Nickel
LME nickel prices decreased in December, following a short-term downtrend that started in June 2018. Nickel prices have increased slightly so far in January, showing some recovered momentum along with other LME base metals. However, given the current commodity outlook, price increases need careful monitoring.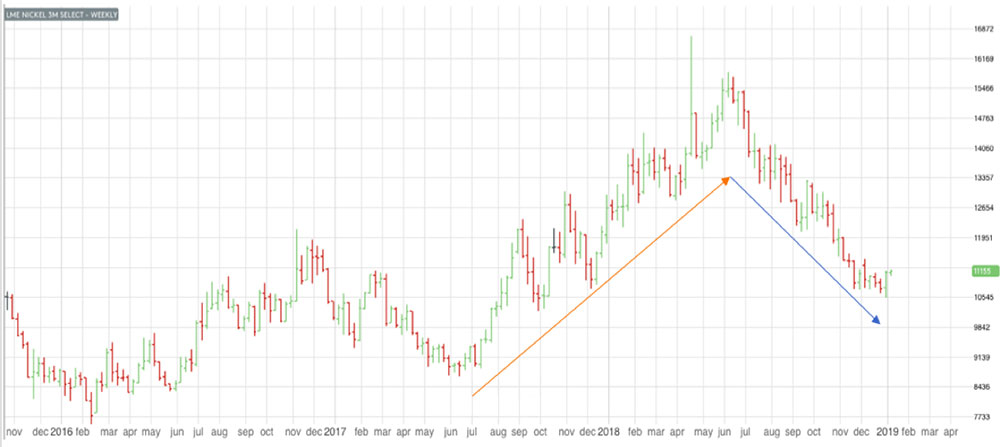 Domestic Stainless Steel Market
Domestic stainless steel surcharges fell again. This is the sixth consecutive monthly drop in stainless steel surcharges this year, starting in July 2018, after surcharges peaked. The 316/316L-coil NAS surcharge fell to $0.80/pound, while the 304/304L surcharge fell to $0.53/pound.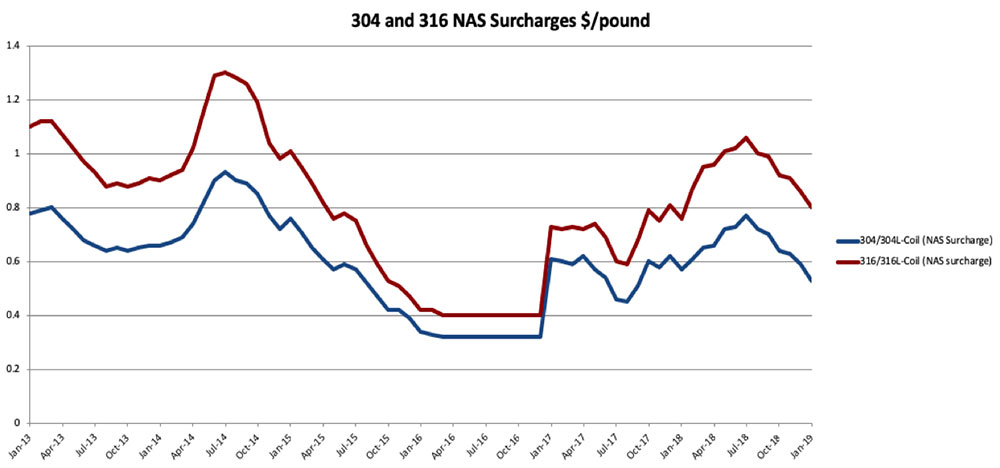 The stainless steel surcharge has started a short-term downtrend, driven by the general price slowdown for steel and stainless steel markets. Stainless steel surcharges now appear to be moving toward 2015/2016 lows.
What This Means for Industrial Buyers
Stainless steel price momentum slowed down again this month, similar to carbon steel. Nickel prices also appear weaker, following slower momentum in commodities markets and in industrial metals markets. Buying organizations may want to follow the market closely for opportunities to buy on the dips.
To understand how to adapt buying strategies to your specific needs on a monthly basis, sign up for a free trial of our Monthly Outlook now.
Actual Stainless Steel Prices and Trends
Chinese 304 stainless steel coil decreased by 1.9%, while Chinese 316 stainless steel coil prices slid this month by 10.8%. Meanwhile, Chinese Ferrochrome prices fell by 3.9%, to $1,780/mt. Meanwhile, FerroMolybdenum lumps prices fell 13%, moving to $16,282/mt. Nickel prices also fell this month by 4.9% to $10,725/mt.