Copper MMI: August Demand Weakness Drags Down the Index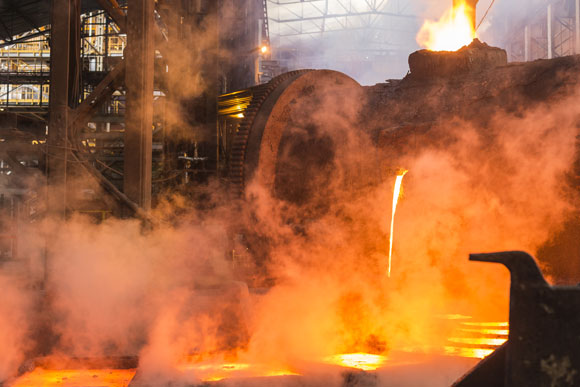 The Copper Monthly Metals Index (MMI) dropped three points in August down to 71, with all prices in the index losing value.
Need buying strategies for steel? Request your two-month free trial of MetalMiner's Outlook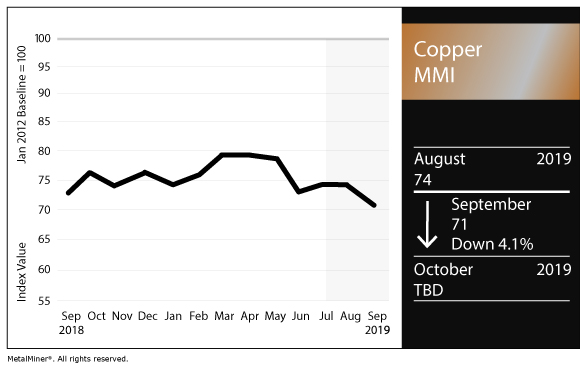 LME copper prices traded lower in August following the precipitous price drop early in the month.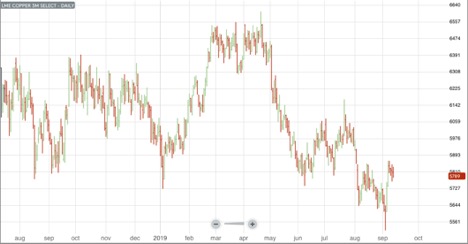 The price dropped again in early September to new lows for 2019, prior to moving back to the $5,800/mt price level during the past week.
SHFE Prices Trade Sideways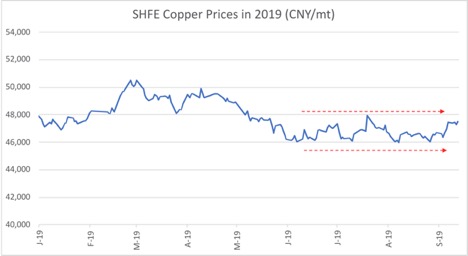 Since June, SHFE prices have traded in a narrow band in the CNY 46,000/mt to CNY 48,000/mt price range, indicating a lack of demand recovery.
Global Demand Still Looks Weak
Demand concerns continue to weigh on copper prices. Meanwhile, trade issues also continue to impact the metal's price volatility.
Demand in China, the world's largest copper consumer, still looks weak as the government continues to implement measures to bolster the economy.
The China Association of Automobile Manufacturers (CAM) released poor automotive sales numbers for August. Like copper, the automotive industry may serve as a good barometer of consumer demand, given its overall weight in total consumer spending.
Total sales dropped by 6.9% in August compared to July. Further, the organization warned the sales outlook looks weak, Reuters reported. Refined copper cathode production dropped by 0.5% compared with July, according to the same report.
What This Means for Industrial Buyers
In last month's Copper MMI, we provided a list of copper products included on the list to be impacted by the U.S. implementation of 301 WTO tariffs of up to 100% on imports from Europe. As a result of these proposed tariffs, copper product imports, as well as domestically produced copper semis, may face serious price increases.
As of now, copper appears to remain on that list. Industrial buyers will want to continue to track developments in the case.
Want an easier solution for tracking industrial metals prices and trade news? Request a demo to the MetalMiner Insights platform.
Buying organizations seeking more insight into longer-term steel price trends should read MetalMiner's Annual Metal Buying Outlook.
Looking for metal price forecasting and data analysis in one easy-to-use platform? Inquire about MetalMiner Insights today!
Actual Copper Prices and Trends
­­
Copper prices dropped more significantly this month, with all prices showing declines.
The LME primary three-month price dropped by 5.3% to $5,637/mt.
Korean copper strip dropped by 4.7% to $7.79/kilogram.
Chinese prices decreased by more than 4%. China's copper wire price dropped most, by 4.7%, to $6,484/mt. The primary cash and copper bar prices dropped by 4.3% to $6,488/mt and $6,479/mt, respectively.
The Indian copper cash price dropped by 4.4% to $6.14/kilogram.
U.S. prices in the index decreased more mildly. U.S. producer copper grade 110 and grade 122 decreased by 2.6% to $3.34/pound for both grades, while grade 102 dropped by 1.7% to $3.56/pound.