Stainless MMI: Nickel Prices Stop Surging and Begin to Move Sideways
The Stainless Steel Monthly Metals Index (MMI) dropped back by three points to 88. The drop comes after reaching a five-year high of 91 last month, following strong increases for two consecutive months and culminating in last month's 16-point surge.
Price increases caught up with additional values in the index, while key prices that initially surged dropped back slightly.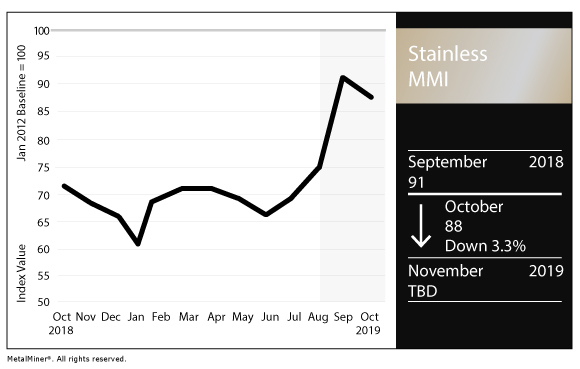 Keep up to date on everything going on in the world of trade and tariffs via MetalMiner's Trade Resource Center.
LME nickel prices dropped off their early September highs, moving sideways and trading roughly in the $17,000-$18,000 band, averaging around $17,500/mt.


Recently, the four-day average (represented by the red line below) dropped toward the nine-day average (represented by the purple line):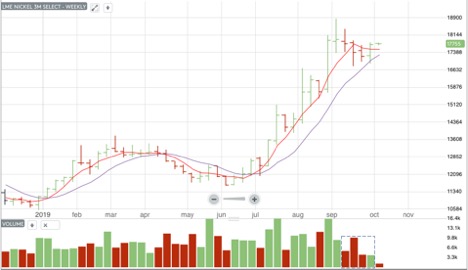 Coupled with waning trading volume, the movement of the four-day average toward the nine-day average indicates the rally may be over.
However, looking at longer-term prices, we see nickel traded much higher prior to 2016 — a year during which commodity prices dropped: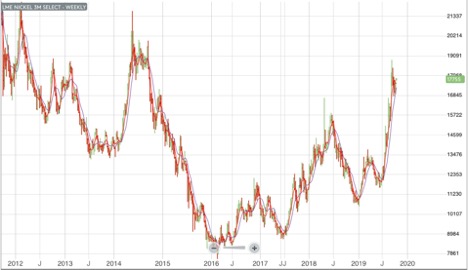 The current price looks comparable to average prices during 2012-2015. Additionally, at times the metal surged higher in price during that period, compared with the current price.
However, with demand conditions looking weaker, the metal may still pull back rather than rise further.
SHFE Nickel Prices Move Sideways
Similar to LME prices, SHFE nickel prices dropped slightly off recent highs, then traded sideways: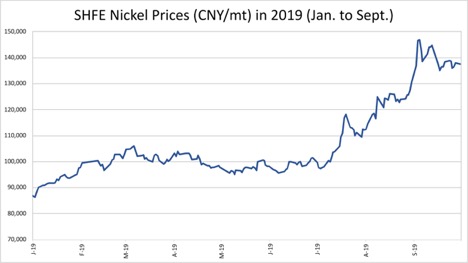 Since SHFE nickel futures only launched in 2015, it's trickier to look back at prices in the longer term.
Presumably, however, SHFE nickel shares LME nickel price upside risks, given that international price arbitrage tends to remove price differentials between the exchanges.
Indonesian State Miner PT Inalum Tapped to Purchase Stake in Vale Indonesia
In order to meet new Indonesia regulations that limit foreign ownership of mining resources, the Indonesian government tapped state miner PT Inalum for the purchase of PT Vale's divestiture of around 20% of value, according to Reuters.
Multiple nickel-focused projects continue to ramp up, with production of nickel pig iron (NPI) set to double by 2020 to 530,000 tons (up from 2018's total production of 261,000 tons).
As recently as 2014, Indonesia recorded minimal output of NPI, according to press reports.
Domestic Stainless Steel Market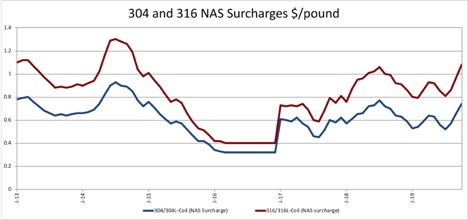 Stainless 304 and 316 NAS surcharges jumped in August, following higher nickel prices.
For 304/304L-coil, the surcharge average $0.66/pound during September, while 316/316L-coil averaged $0.97/pound during September.
As of early October, surcharges continued rising.
What This Means for Industrial Buyers
Nickel prices stopped surging, and then dropped back mildly, taking the index reading back a few points; still, prices remained much higher.
Whether prices correct or rise further will depend on demand conditions moving into the fall season. Therefore, industrial buying organizations need to stay alert for the right opportunity to buy.
Buying organizations interested in tracking industrial metals prices with greater ease will want to request a demo to the new MetalMiner Insights platform.
Buying organizations seeking more insight into longer-term industrial metals price trends should read MetalMiner's Annual Metal Buying Outlook.
Looking for metal price forecasting and data analysis in one easy-to-use platform? Inquire about MetalMiner Insights today!
Actual Stainless Steel Prices and Trends
The LME primary three-month nickel price corrected by 6.8% to $17,210/mt.
China's primary nickel price corrected by a similar extent, 7%, to $19,165/mt. All other Chinese prices in the index increased by 0.3%, with the exception of Ferro Alloys FeMo lumps, which dropped by 0.4% this month to $18,606/mt.
India's primary nickel price dropped back by 1.7% to $17.69/kilogram.
The U.S. 316 and 304 Allegheny Ludlum stainless surcharges increased by double-digits again — by 10.7% and 11.9%, respectively — to $1.11/pound and $0.78/pound.
Korean prices jumped this month. Stainless steel coil 430 CR 2B and 304 CR 2B rose by 25.3% and 14.8%, respectively, to $1,497/mt and $2,411/mt.