This Morning in Metals: Trump to Sign Order Raising Steel Content Threshold for Federal Projects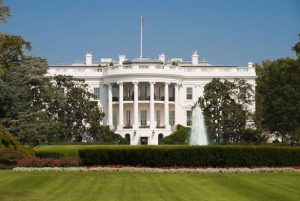 This morning in metals news, President Donald Trump is expected to sign an executive order calling for heightened steel content thresholds for federal projects, Japanese firm Nippon Steel is planning to offload $1.9 billion in assets in order to purchase India's Essar Steel and Chinese iron ore prices are getting a boost from a positive demand outlook.
Need buying strategies for steel? Request your two-month free trial of MetalMiner's Outlook
Trump to Sign Executive Order
President Donald Trump will sign an executive order Monday calling for higher steel content thresholds for federal projects, according to White House trade adviser Peter Navarro in an opinion piece published by Fox News.
According to Navarro, the order will call for the raising of the domestic steel content threshold for federal projects from 50% to 95%.
The president also signed a proclamation hailing this week "Made in America Week."
Nippon Steel to Buy Essar Steel
Japan's Nippon Steel plans to offload $1.9 billion in assets toward its purchase of India's Essar Steel, according to the Nikkei Asian Review.
According to the report, Nippon's plans to sell approximately 200 billion yen in assets comes in at about twice the amount initially expected to be offloaded to finance the deal.
Chinese Iron Ore Price Gains
Expectations of rising demand boosted Chinese iron ore and coke prices Monday, Reuters reported.
MetalMiner's Annual Outlook provides 2019 buying strategies for carbon steel
According to Reuters, the most-traded September iron ore contract on the Dalian Commodity Exchange surged 2.3% on Monday to 895 yuan ($130.22) per ton.