Global Precious MMI: Sub-Index Continues Rise as Palladium Outpaces Platinum Again

Here's What Happened
Our Global Precious Monthly Metals Index (MMI), tracking a basket of precious metals from across the globe, rose yet another three points to 90 for the January reading, a 3.4% increase.
We're officially in a three-month rising trend for our precious metal sub-index. The last time we saw this buildup was back in Q3 2017, after which the index retreated. If that pattern holds, we could see a drop-off, perhaps as early as February — although seasonality and the global political and economic atmosphere in Q4 both likely had a lot to do with the outcome, which may not be replicated here in Q1 2018.
Palladium officially busted through the $1,000 per ounce ceiling in December, and there were no signs of a turnaround for the January reading — the PGM per-ounce held above that level for the second straight month. (More on palladium below.)
Meanwhile, it appears as though platinum will need to take advantage of a "Dry January." The metal came out of the holidays very sluggish, recording only a $2 per ounce increase and beginning the new year in a rather flat state of malaise.
"We've (still) got a trend, folks!" — this is the fourth straight month in which palladium is priced at a premium to platinum, which has not been the historical norm.
And then there's gold. After breaking and holding above the $1,300 per ounce threshold at the beginning of September for the first time since October 2016, the U.S. gold price is back above that benchmark after a few months off.
Benchmark Your Current Metal Price by Grade, Shape and Alloy: See How it Stacks Up
What's Going On in the Background?
Can palladium keep rising? That all depends. On the one hand, the supply market is pretty tight, and it has been for a while. In fact, the palladium market has been in deficit for the last six of seven years in which data is available, according to a good Reuters piece published just after the new year. On the other hand, the primary thing driving palladium demand, and therefore prices, is mainly Chinese automotive demand. Caveat: if that slows down or even goes in reverse (car puns are just the best, aren't they?), palladium could go with it. As we reported earlier this week, a Wall Street Journal story pointed out Chinese consumers are now starting to get into used car sales even more, which could portend the end of unmitigated new car sales growth — much like China's GDP cooldown over the last few years. To wit, here's a sweet graphic showing the relationship between palladium and China's automotive sales: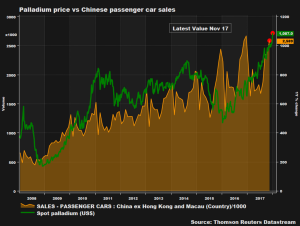 Germans buying up some gold. Regarding that $1,300/ounce threshold we mentioned earlier that gold prices have been hovering above for a couple months straight? That has helped spot gold prices gain about 14% during 2017. Now, at least one nation — going by its recent investment activity — is hoping that upward trend continues. According to another Reuters article, Deutsche Boerse said its Xetra-Gold notes rose in demand to a record 175 tons of gold, a nearly 50% increase over 2016. Safe haven, here we come! (Ja?)
What Metal Buyers Should Look Out For
PGMs. While ETF Securities, an investment and intelligence firm, which we used to cover quite regularly, expects precious metals (including PGMs) to remain pretty stable for the course of 2018 in its Outlook 2018 report, as we noted last month, keep a close eye on All Things China. This is especially important as it pertains to automotive partnerships between U.S. OEMs and China and the resulting innovation, as my colleague Fouad Egbaria reported earlier this week in our Automotive Monthly Metals Index (MMI).
ICYMI, our own Irene Martinez Canorea drilled down into the gold markets before the end of 2017 from an analytical perspective, ultimately unlocking the reason why industrial metal buyers (especially those buying copper) should pay attention to gold.
Free Sample Report: Our Annual Metal Buying Outlook
Key Price Movers and Shakers
The U.S. palladium bar price gained 60% since January 2017 and 8.5% over last month to end up at $1,086 per ounce.
The U.S gold bullion price broke back above $1,300 to $1,317.10 per ounce for January.
Silver prices all increased, following on the heels of gold, with the U.S. price showing an increase to $17.15 per ounce.