Renewables MMI: Cobalt Prices Gain Upward Momentum
The Renewables Monthly Metals Index (MMI) dropped two points for a September MMI value of 99.
Need buying strategies for steel? Request your two-month free trial of MetalMiner's Outlook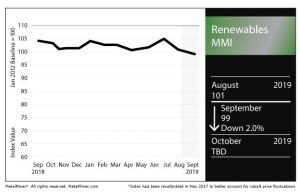 First Cobalt Eyes Restart of Canadian Refinery
First Cobalt Corp., a Toronto-based firm, is looking into restarting its idled cobalt refinery in Canada, Reuters reported.
First Cobalt CEO Trent Mell said the company will begin assessing the condition of the plant next week.
Last month, the Canadian firm reached an agreement with Glencore by which the latter would fund a feasibility study for the idled refinery.
"First Cobalt Corp. is pleased to announce that it has entered into a US$5 million loan facility with Glencore AG to complete advanced engineering, metallurgical testing, field work and permitting associated with a recommissioning and expansion of the First Cobalt Refinery in Canada," First Cobalt said in a prepared statement Aug. 26. "Upon completion of a positive definitive feasibility study for a 55 tonnes per day ("tpd") refinery expansion in Q1 2020 and subject to certain other terms and conditions and satisfaction of conditions precedent, Glencore is prepared to advance an additional US$40 million to recommission and expand the Refinery."
As Reuters noted, once operational the refinery would become North America's lone producer of refined cobalt for the electric vehicle sector.
Cobalt Prices Surge
Speaking of Glencore, its announcement of a planned shutdown of its Mutanda mine this year has seen cobalt prices reach six-month highs, Reuters reported.
Earlier this year, Glencore said it would halt production at the Mutanda cobalt and copper mine in the Democratic Republic of the Congo (where a majority of the world's cobalt is mined); the site is the world's largest cobalt mine.
LME cobalt, after reaching $95,000 per ton in March 2018, lost nearly 75% of its value over the next 16 months, falling to $25,000 as of late July. Recently, the price has picked up, rising to $34,750 per ton as of Sept. 6.
GOES Price Surges 7.4%
The MMI for grain-oriented electrical steel (GOES) jumped 14 points for a September reading of 199.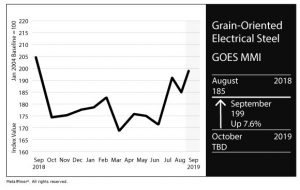 The U.S. GOES coil price rose 7.4% month over month to $2,745/mt as of Sept. 1.
German steelmaker Thyssenkrupp — a prominent producer of electrical steel — is facing a period of significant uncertainty, MetalMiner's Stuart Burns recently explained.
Faced with financial challenges, the company is mulling its next steps, which include the possible sale of its profitable elevator business.
Evidence of its struggles, the German firm will be booted from the country's blue-chip stock index, the DAX, later this month. Thyssen, which merged with Krupp in 1999, was a founding member of the DAX.
"For both suppliers and customers of the group, the most worrying development must be the gradual reduction in credit rating," Burns wrote. "If suppliers cannot insure their debt, they cannot in many instances supply, thus forcing the group to diversify and fragment its supply base.
"The group has survived many trials and tribulations over the decades. It will no doubt survive the current period, but it will be a different, much reduced Thyssenkrupp that emerges in the decade ahead."
Another giant in the elevator industry, Finland's Kone, has hired a law firm to advise it during its planned takeover bid of Thyssenkrupp's elevator business, Reuters reported Monday.
Want to see an Aluminum Price forecast? Take a free trial!
Actual Metal Prices and Trends
U.S. steel plate rose 2.0% month over month to $797/st as of Sept. 1.
Chinese steel plate fell 5.6% to $577.25/mt. Korean steel plate increased 0.7% to $568.51/mt. Japanese steel plate gained 2.5% to $809.83/mt.