Hot Off the Press — MetalMiner's 2020 Annual Metal Outlook!
Have you set your 2020 metals budget?
Make sure your purchasing strategy is sound with MetalMiner's 2020 Annual Metals Outlook!
Click on the image below to get your complimentary sample of the 2020 Annual Metals Outlook.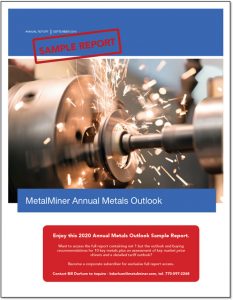 The full report is only available to corporate subscribers. However, the free sample report includes access to:
Executive summary by the MetalMiner research team
Analysis of commodity markets
Industrial metals market review
Key price drivers assessment
Tin price history and outlook, plus key influencing factors and buying recommendations
Arriving just in time for budgeting season, this report contains the unique insight, analysis and tools you need as a metal buyer or manufacturer to know when and how to make buying decisions — including expected average prices, plus support and resistance levels.
The Annual Outlook is one of MetalMiner's most valuable pieces of content and includes coverage of commodities markets, industrial metals markets and key price drivers for aluminum, copper, nickel, lead, zinc, tin and steel (HRC, CRC, HDG and plate).
By understanding these price drivers, you can pinpoint exact price levels and make the appropriate changes to your sourcing strategy for that particular metal. You will be also be able to react when the market gives clear signs that a new trend is developing and stay hedged as long as that trend lasts.
The Annual Outlook Report continues to examine three variables that have underpinned metal markets in recent years:
Demand from China (and China's overall economic outlook)

The strength of the U.S. dollar

Oil prices and trends



We also offer custom research and forecasting for all the metals covered in the Buying Outlook. For more information, contact the MetalMiner team: research@metalminer.com.